ALL QUIET ON THE WESTERN FRONT – "A profound and sobering anti-war epic"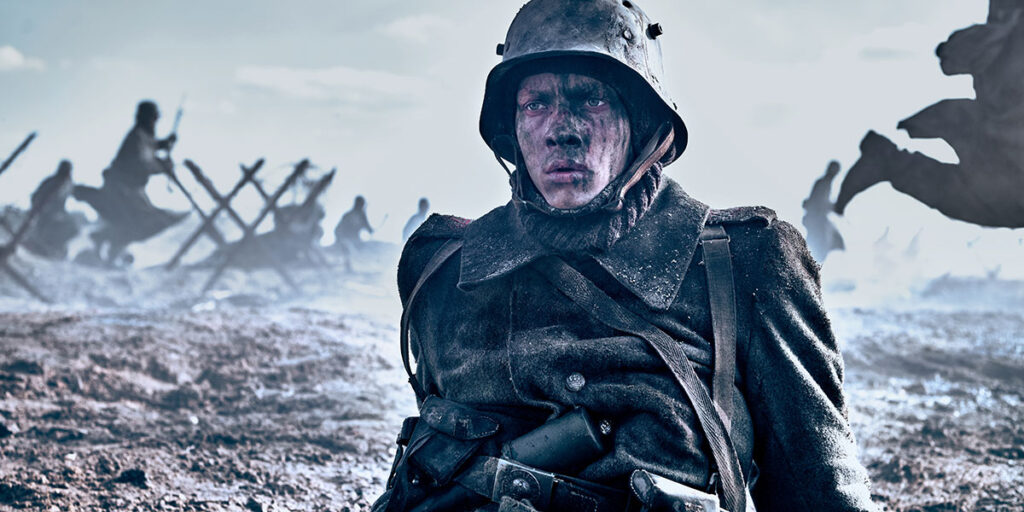 Directed by: Edward Berger
Daniel Brühl as Matthias Erzberger
Albrecht Schuch as Stanislaus "Kat" Katczinsky
Felix Kammerer as Paul Bäumer
Moritz Klaus as Frantz Müller
Aaron Hilmer as Albert Kropp
Edin Hasanovic as Tjaden Stackfleet
It is based on the 1929 novel of the same name by Erich Maria Remarque.
When 17-year-old Paul joins the Western Front in World War I, his initial excitement is soon shattered by the grim reality of life in the trenches.
Edward Berger's All Quiet on the Western Front is nothing short of a profound and sobering anti-war epic. The movie is also exceptionally made, with the filmmakers creating a hyper-realistic wartime atmosphere. Yep, the battle scenes here are some of the best in the genre – period. And when the characters are thrust into the trenches, it's as if we can feel the damp, miserable muddiness as well. And like the novel it is based on, not to mention the other film adaptations that have come before, this story is loaded with heft as it relates to the victims of war. It's about the young men that don't come home afterwards. It's about the false pretences that brought them there in the first place. It's about the unlikely friendships they make along the way. It's about the unimaginable realizations and decisions they are forced to make. It's sadly all too timely. Almost everything in the film hits its mark, including an exceptional lead performance by Daniel Bruhl. There's also something to be said about the film's score, as the hard-hitting musical notes only underscore the jarring circumstances that lay ahead. All Quiet on the Western Front is anything but quiet - it shouts its message with sheer precision. Here's hoping plenty out there pay attention!