ANT-MAN AND THE WASP: QUANTUMANIA – "A vastly strange yet highly imaginative CGI fest"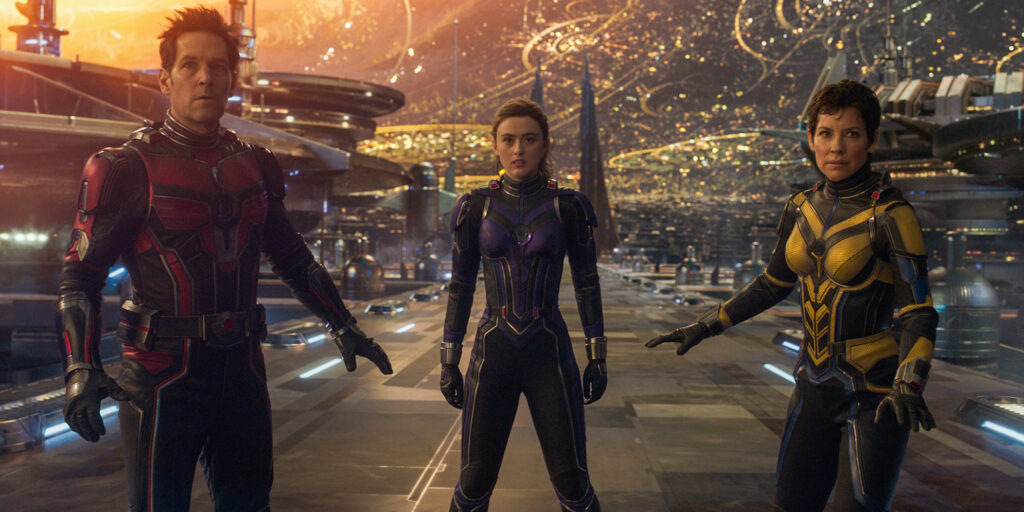 • Paul Rudd as Scott Lang / Ant-Man
• Evangeline Lilly as Hope van Dyne / Wasp
• Jonathan Majors as Kang the Conqueror
• Michelle Pfeiffer as Janet van Dyne
• Michael Douglas as Hank Pym
• Kathryn Newton as Cassie Lang
It is the sequel to Ant-Man (2015) and Ant-Man and the Wasp (2018) and the 31st film of the Marvel Cinematic Universe (MCU).
Ant-Man and the Wasp find themselves exploring the Quantum Realm, interacting with strange new creatures and embarking on an adventure that pushes them beyond the limits of what they thought was possible.
A vastly strange yet highly imaginative CGI fest, Ant-Man and the Wasp: Quantumania might be mid-tier MCU fare, but it's entertaining, nonetheless. What this latest Ant-Man outing does well though, is up the stakes – by a lot. Yes, there is still the silly and quirky humour we've grown accustomed to from the previous instalments, but thanks to some ultra-serious circumstances at hand, Ant-Man finally feels like an "A-list hero" (he is an Avenger after all). I can't say the same for The Wasp, however, as despite getting titular billing, she is regulated to a side character here – along with her onscreen father, played by the legendary Michael Douglas. Even Ant-Man's now grown activist-turned-heroine daughter (played by a high-spirited Kathryn Newton), is sadly underused/underdeveloped. And while Michelle Pfieffer's Janet Van Dyne gets lots to chew on in the story department, the true star of this film is Kang the Conqueror. Played with quiet charisma and expert nuance by Jonathon Majors, Kang cements himself as a true worthy villain for all of "Earth's Mightiest Heroes" (Thanos who?). Yep, it's the "Kang Show" folks, and this movie is all the better for it. But while Kang's representation stands tall, many of the other narrative elements fall short. Listen, I get that the Quantum Realm is a weird place with oddities of all sorts, but there is no real rhythm or reason given to any of the inhabitant's existence. It's just strange for strange sake. It's also very reminiscent of a Star Wars adventure. Which might not be such a bad thing, but Guardians of the Galaxy has already got that corner of the MCU covered. This all kinda lessens the appeal of those movies. Regardless, there is surely fun to be had in the frenzied action sequences, not to mention those Marvel trademark post-credit scene reveals (stick around, there are 2 of them). So, while Phase 5 of this juggernaut cinematic universe might not be starting with a spectacular homerun, thanks mostly to Kang, it remains a winning effort.