BOOK CLUB: THE NEXT CHAPTER – "Not quite the cinematic equivalent of a page-turner"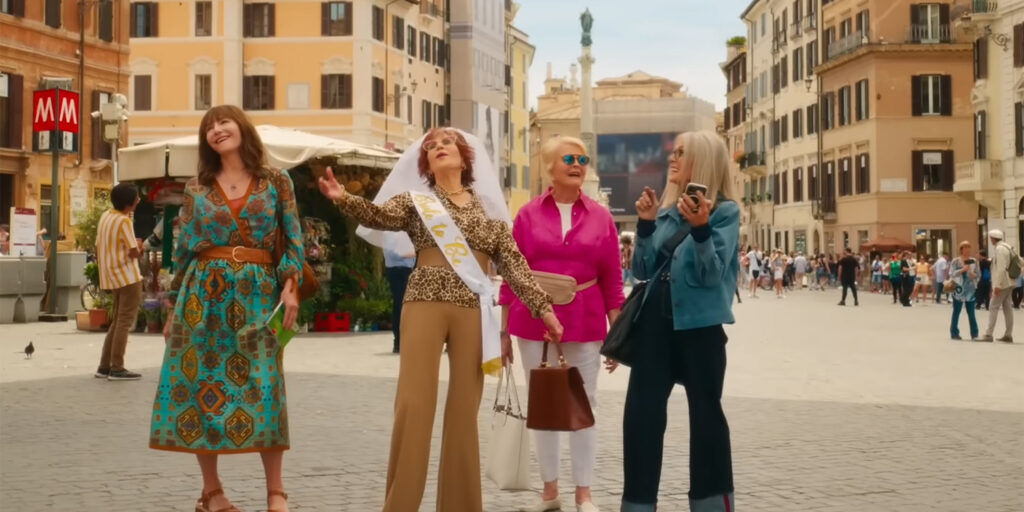 Directed by: James Gunn (The Suicide Squad – 2021)
• Diane Keaton as Diane
• Jane Fonda as Vivian
• Candice Bergen as Sharon
• Mary Steenburgen as Carol
• Craig T. Nelson as Bruce
• Don Johnson as Arthur
• Andy García as Mitchell
It is a sequel to 2018 film Book Club.
Four elderly best friends take their book club to Italy for the fun girls' trip they never had. When things go off the rails and secrets are revealed, their relaxing vacation turns into a once-in-a-lifetime cross-country adventure.
Not quite the cinematic equivalent of a page-turner, but Book Club: The Next Chapter is an effortlessly enjoyable viewing experience, nonetheless. Yes, the senior quartet of ladies easily overcome the "hammy" script and corny dialogue once again. Their chemistry remains intact, with each one feeding off the other's charisma tenfold. In fact, they all seem to be having a blast, and their onscreen enjoyment is undeniably infectious. Could they have been given more/better to work with in the script department? No question – but, admittedly, there are moments of genuine humour and grace to be found amongst the silliness. The Italian locale is also a nice touch, giving way to a beautiful backdrop throughout. But, at the end of the day, this is another classic case of cinema comfort food. Yep, it goes down easy, is completely watchable, but is ultimately an empty affair. Ok, so the theme of enduring friendship still rings true here, but it's not poignant of nuanced in any meaningful way. But hey, at least we get a wide array of sex jokes from 70 – 80-year-olds!