KNIGHTS OF THE ZODIAC – "Big, dumb (slightly) fun fantasy adventure"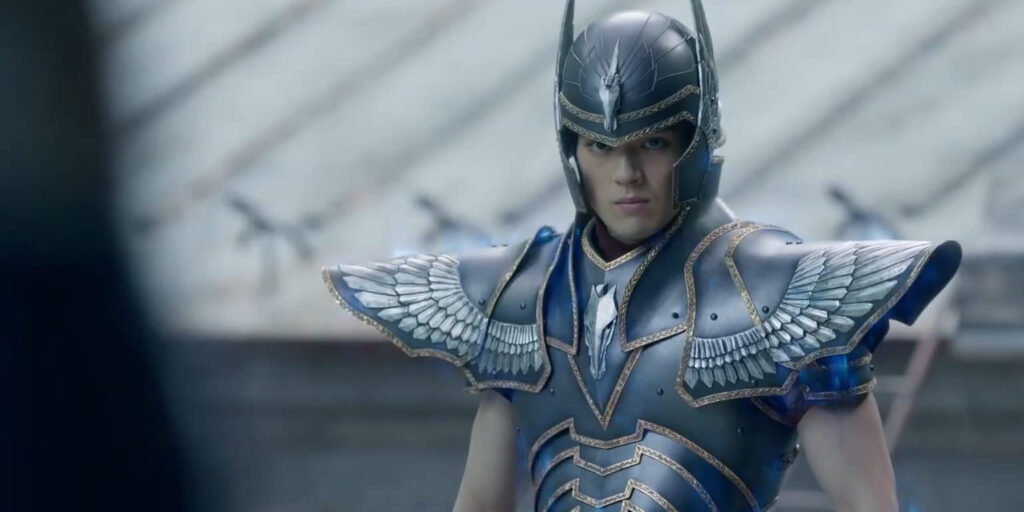 Directed by: Tomek Bagiński
• Mackenyu as Seiya the Pegasus Knight
• Famke Janssen as Guraad
• Madison Iseman as Sienna / Athena
• Diego Tinoco as Nero the Phoenix Knight
• Mark Dacascos as Mylock
• Nick Stahl as Cassios
• Sean Bean as Alman Kiddo
It is based on the manga Saint Seiya by Masami Kurumada.
When a goddess of war reincarnates in the body of a young girl, street orphan Seiya discovers that he is destined to protect her and save the world. But only if he can face his own past and become a Knight of the Zodiac.
Knights of the Zodiac is a big, dumb (slightly) fun fantasy adventure. And while this is far from the Citizen Kane of manga/anime adaptations, it manages to deliver slivers of excitement. If only it wasn't hampered by an extra helping of cheesy dialogue and shoddy CGI. The whole thing is essentially Power Rangers meets Mortal Kombat meets Clash of the Titans. Unfortunately, it's not near as good as any of those. Maybe it's the abundance of cliches or stilted acting, but the movie never seems to find its footing. It doesn't help that it's also a bit of tonal mess, starting rather gritty and grounded, only to devolve into a fantastical glow fest of explosions. The movie and story would likely be better suited for the small screen. It's got "mid-budget Netflix adventure series" written all over it. But, alas, they rush the story and try to set up sequels with lingering questions and the promise of a new quest to come. I wouldn't hold your breath for another big screen outing though – this would-be franchise just doesn't have the wings to soar. Sorry Otakus!