MY POLICEMAN – "A sluggish melodrama that's beautiful to look at"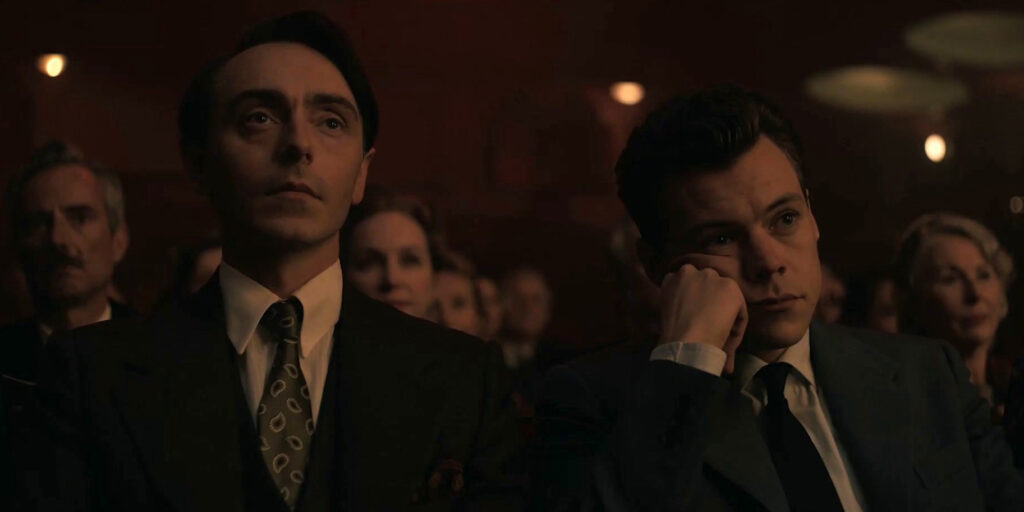 Directed by: Michael Grandage
Harry Styles as PC Tom Burgess
Linus Roache as old Tom Burgess
Emma Corrin as Marion Taylor
Gina McKee as old Marion Taylor
David Dawson as Patrick Hazlewood
Rupert Everett as old Patrick Hazlewood
Kadiff Kirwan as Nigel
It is based on the 2012 novel of the same name by Bethan Roberts.
Set in 1950s Brighton, a gay policeman, Tom Burgess, marries schoolteacher Marion Taylor while being in a relationship with Patrick Hazlewood, a museum curator. The secret they share threatens to ruin them all.
Michael Grandage's My Policeman is a sluggish melodrama that's beautiful to look at. That's to say that this is a movie that takes its time. And frankly, it's one that gets better the longer it goes on. That's not necessarily a good thing though, as the plodding timeline jumps makes it hard to connect with. Luckily, we have a more than capable cast to draw us in. And while Linus Roache is the best of the bunch, Harry Styles surely carries his own. Here, the pop star is subdued, going the more subtle route as opposed to the over-the-top performance he put forth in Don't Worry Darling. If only the dialogue wasn't so bland. To be fair, the story is fairly affecting at times. With a gut punch of tragedy, you'll be hard pressed not to feel the heartbreak. There's also something to be said about the elegant production on display. Yep, the filmmakers do a great job with the striking visual design. What is not so great, however, is the predictability of it all. A paint by numbers tale of forbidden love? Mostly. Yes, with a bit less stiffness and a bit more energy, My Policeman would surely be an arresting triumph. Sadly, it's nothing to riot over.