TROLLS BAND TOGETHER – "Another animated glitter bomb but with a healthy dose of boy band nostalgia"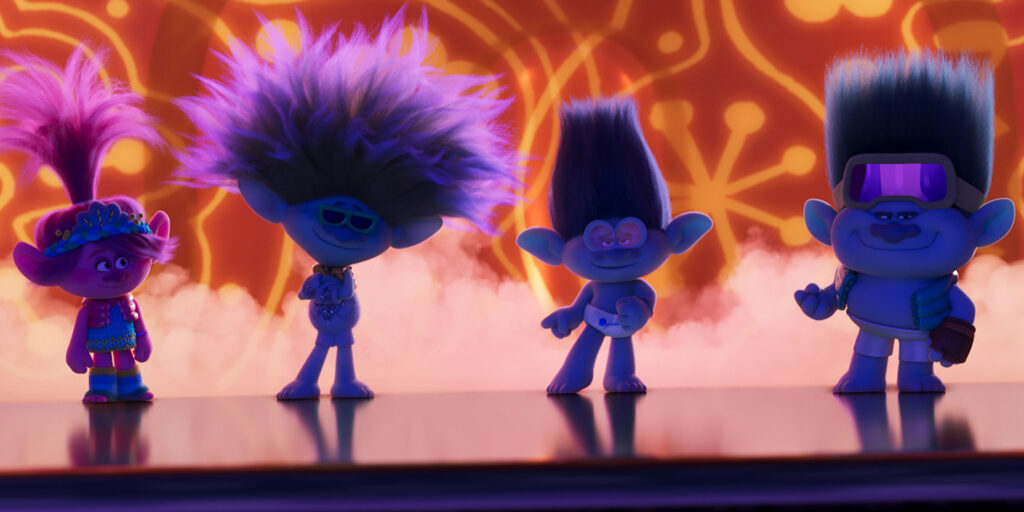 Directed by: Walt Dohrn & Tim Heitz
• Anna Kendrick as Queen Poppy
• Justin Timberlake as Branch
• Camila Cabello as Viva
• Eric André as John Dory
• Kid Cudi as Clay
• Troye Sivan as Floyd
• Daveed Diggs as Spruce
• Amy Schumer as Velvet
• Andrew Rannells as Veneer
• Zosia Mamet as Crimp
• RuPaul as Miss Maxine
• Zooey Deschanel as Bridget
It serves as the sequel to Trolls World Tour (2020), and the third instalment in the Trolls franchise.
Poppy and Branch have officially started a relationship. As the two grow closer, Poppy discovers that Branch was once a part of the boyband phenomenon, BroZone, with his four older brothers. When one of his brothers, Floyd, is kidnapped by wannabe pop-star siblings, Velvet and Veneer, Branch and the rest of the siblings must reunite to rescue him.
Trolls Band Together stands as another animated glitter bomb but with a healthy dose of boy band nostalgia. Yes, prepare for a new helping of colourful jukebox distractions. And if you saw the previous 2 cinematic go rounds in this franchise, then you'll know exactly what to expect. However, this time around, among the zippy gags and eye-popping pastel colour palate, are some "grown up" themes. I mean, it's still VERY much for kids, but it has matured - at least compared to what came before. There's actually some good stuff to do with family and what it means to belong. Are there too many characters to invest in, though? Yeah, but it's fine. In fact, with this new boy band focus, the entire film gets littered with catchy musical riffs from the past. Seriously, if you are (or were) a boy band enthusiast, this is your love letter to the genre. And with a flurry of jokes geared toward the adults in the crowd, the fluffy-haired fun becomes accessible to everyone. I suppose as far as silly distractions go, they could be much worse - and less colorful!





Thanksgiving
$7.2 million