WE HAVE A GHOST – "A ho-hum family horror sendup that never quite finds its footing"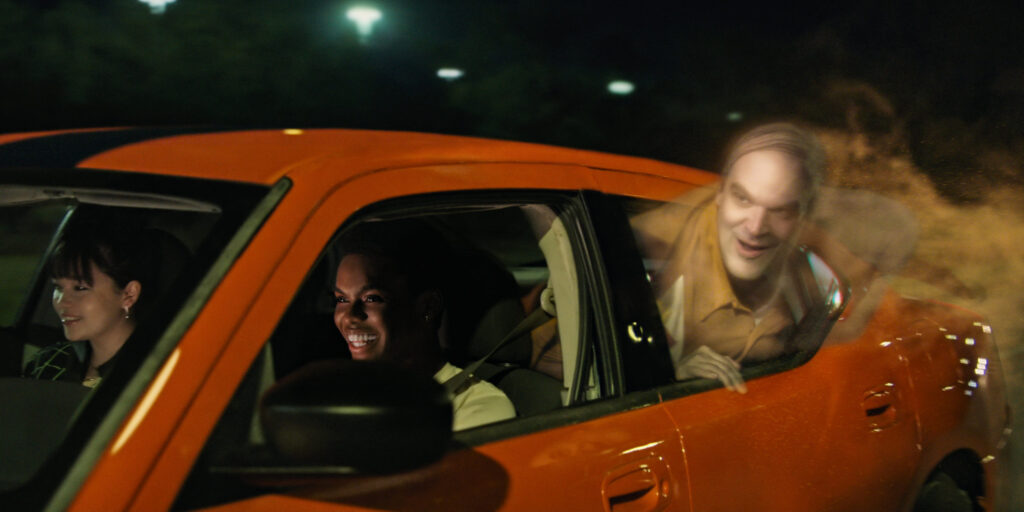 Directed by: Christopher Landon (Happy Death Day – 2017)
• David Harbour as Ernest
• Jahi Di'Allo Winston as Kevin
• Anthony Mackie as Frank[
• Tig Notaro as a government agent
• Jennifer Coolidge as a TV medium
• Isabella Russo as Frank's neighbor
It is based on the 2017 short story Ernest, by Geoff Manaugh.
After discovering that their new home is haunted by a ghost named Ernest, Kevin creates a YouTube channel and makes the ghost and his family Internet-famous. However, when Kevin and Ernest start to uncover the truth about Ernest's past, they become a target of the CIA.
We Have a Ghost is a ho-hum family horror sendup that never quite finds its footing – and it had 2 hours and 6 minutes to try! That runtime actually happens to be one of this film's biggest issues, as the bloat is very real here. Yes, a tighter script would have done wonders for the overall viewing experience, but it's not the only problem at hand. Ok, so there are clear homages being paid to 1980s-type spooky family fare (Beetlejuice anyone?), but unfortunately that nostalgia only carries the film so far. It doesn't take long for the tropes and cliches to pile up in unoriginal and distracting fashion. And while this movie goes for a mix of heartfelt tenderness and laughs, it only really succeeds at the former. You may chuckle a few times, but it's scarily thin on legitimate laugh-out-loud moments. One can't fault the cast though, as clearly everyone is game here – including David Harbour as Ernest, our big titular ghost. And while there's also something to be said for Anthony Mackie's infectious energy and charisma, the cast MVP is Jahi Di'Allo Winston as Kevin. The young actor has loads of talent, and will no doubt be a future star. It's just too bad this movie isn't going to propel him there any faster.