80 FOR BRADY – "It's the endearing cast that takes it across the goal-line"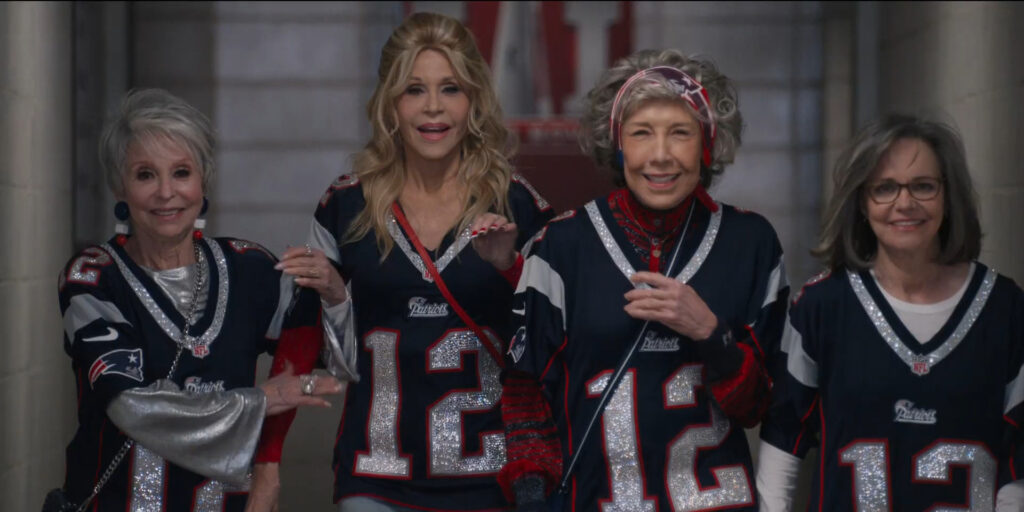 • Lily Tomlin as Lou
• Jane Fonda as Trish
• Rita Moreno as Maura
• Sally Field as Betty
• Tom Brady as himself
• Billy Porter as Gugu
• Rob Corddry as Pat
• Alex Moffat as Nat
The film is inspired by a real-life group of Patriots fans known as the "Over 80 for Brady" club; the grandson of one member pitched the idea for a film.
Four elderly female friends and longtime New England Patriots fans travel to Houston to watch their hero Tom Brady and the Patriots play in Super Bowl LI.
When it comes to 80 For Brady, it's the endearing cast that takes it across the goal-line. Yes, this is a movie that is made allll the much better thanks to our leading ladies: Jane Fonda, Lily Tomlin, Rita Moreno, and Sally Field. It's clear that this iconic foursome is having a blast, and frankly, their spirit is infectious. And it's a good thing, because the script is all manner of absurd. Silly shenanigans and cheeky humour rule the day here, but it never reaches anything more than sitcom level laughs. There is a heart to the proceedings though, not to mention some genuine feel-good moments. And really, isn't that what a movie like this is all about – making you feel good and bringing a smile to your face? It's comfort viewing folks, not life changing cinema. In the end, it's simply a celebration of friendship and life's passions. Oh, there's also more than a few fun cameos in here (perhaps a bit too much Guy Ferrari for my taste though, but that's neither here nor there). And, I suppose that Tom Brady guy aint so bad in here either.