ANGEL HAS FALLEN – "As explosive and dumb as you expect it to be"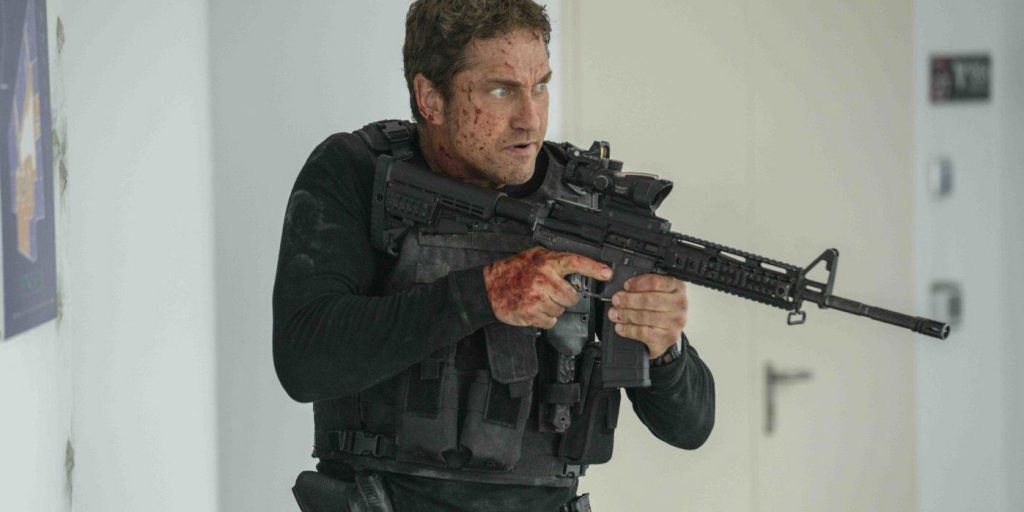 Ric Roman Waugh (Snitch – 2013)
Gerard Butler as United States Secret Service agent Mike Banning
Morgan Freeman as President Allan Trumbull
Danny Huston as Wade Jennings
Michael Landes as Sam Wilcox
Tim Blake Nelson as Vice President Kirby
Nick Nolte as Clay Banning
Jada Pinkett Smith as FBI Agent Helen Thompson
Lance Reddick as Secret Service Director David Gentry
Mark Arnold as CIA Director James Haskell
Is the 3rd installment in the Fallen film series, following Olympus Has Fallen (2013) and London Has Fallen (2016).
Secret Service agent Mike Banning finds himself framed for an assassination attempt on President Allan Trumbull. Pursued by his own agency and the FBI. Banning must turn to unlikely allies in a race against time to clear his name and uncover the real terrorist threat.
Angel Has Fallen is as explosive and dumb as you expect it to be. And while that's not necessarily a bad thing, it's not great either. You see, while the story is preposterously predictable and clichéd to the nth degree, this whole franchise has been about delivering textbook examples of "turn your brain off action entertainment." And on that front, it succeeds once more, as there are loads upon loads of gun fights, car chases and explosions that require no thinking at all. But while the action can at times be intense (the good kind), it can also feel very "video game-y" (the bad kind). Luckily, Gerard Butler is as charming as ever here, even doing most of the heavy lifting in the acting department (I mean, that says a lot given Morgan Freeman is also in the film). Nick Nolte also deserves some credit for giving his grizzled and paranoid old-timer performance some major gusto. Though, we may be at a point where Nolte should be accompanied by subtitles when he speaks - that raspy voice is only getting worse. Suffice to say, Angel Has Fallen isn't going to win any awards or redefine the genre by any stretch of the imagination, but I'll be damned if it doesn't entertain. But just how entertained you'll be depends on how much sensical plot you require with your mindless action.