BLONDE – "A bold, bleak nightmare put to film"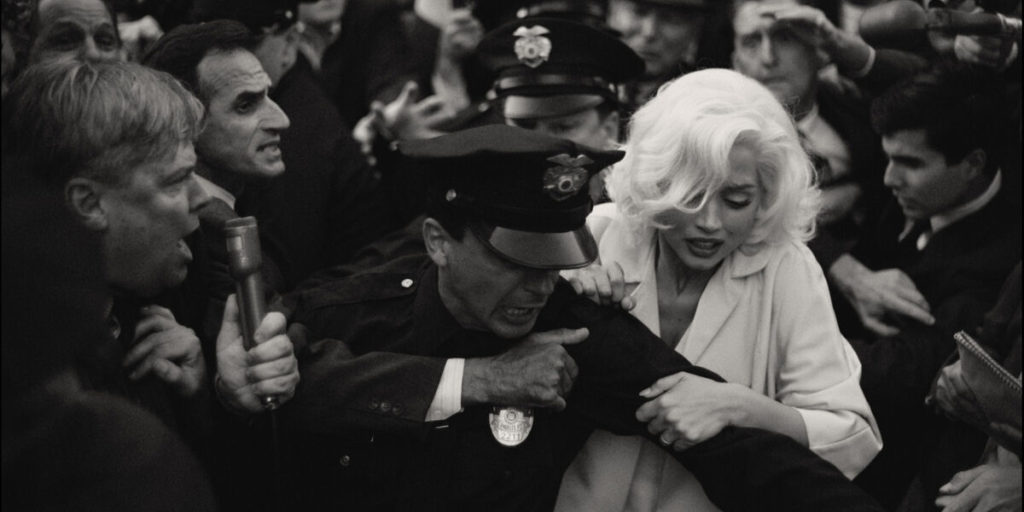 Directed by: Andrew Dominik (The Assassination of Jesse James by the Coward Robert Ford – 2007)
Ana de Armas as Norma Jeane Mortenson / Marilyn Monroe
Adrien Brody as Arthur Miller / The Playwright
Bobby Cannavale as Joe DiMaggio / Ex-Athlete
Xavier Samuel as Charles "Cass" Chaplin Jr.
Julianne Nicholson as Gladys Pearl Baker
Caspar Phillipson as John F. Kennedy / The President
Toby Huss as Allan "Whitey" Snyder
It is based on the 2000 novel of the same name by Joyce Carol Oates and is a fictionalized take on the life and career of American actress Marilyn Monroe.
After a traumatic childhood, Norma Jeane Mortenson becomes an actress in the Hollywood of the 1950s and early 1960s. She becomes world famous under the stage name "Marilyn Monroe", but her on-screen appearances are in stark contrast to the love issues, exploitation, abuse of power, and drug addiction she faces in her private life.
Andrew Dominik's Blonde is a bold, bleak nightmare put to film. It's also likely going to be one of the toughest movies you'll ever sit through. And no, it's not because of the NC-17 rating (I've seen far worse in R-rated fare), it's all to do with the horrific subject matter and the sheer effectiveness of our filmmaker in delivering it. Technically, the film is top notch. The black and white cinematography and lush recreation of Hollywood's golden years is a chef's kiss! Now, this movie is not going to be for everyone. I would imagine it is not going to be for most of the average movie-going public. The film is less of a story as it is extended incidents sewn together. There is a throughline of course (Marilyn's traumatizing childhood), but it doesn't play by your "typical" rules of cinema. There's also the question of, is this all true? The answer, of course, is no. Well, it's all "imagined" and "here say." Are they that far off from what happened though? We'll never know of course, but it all feels in the realm of believability - and frankly, that's a depressing thought. Depressing might actually be the best word to describe what we get here, as this is NOT a feel good biopic by any means. This isn't a shiny nod to the bright, bubbly, and beautiful Marilyn Monroe in the movies of yesteryear. Nope, this is a true horror story about Norma Jeane and her tragic existence. And for her part, Ana de Aramas delivers an A-grade performance. Her Marilyn is dripping in sorrow, hopefulness, and unbridled beauty. She's a survivor. She's a star. She's also unfulfilled in nearly all aspects her life. If it sounds miserable, you are not wrong, not wrong at all!