BULLET TRAIN – "A high-octane and adrenaline-fueled Summer blockbuster through and through"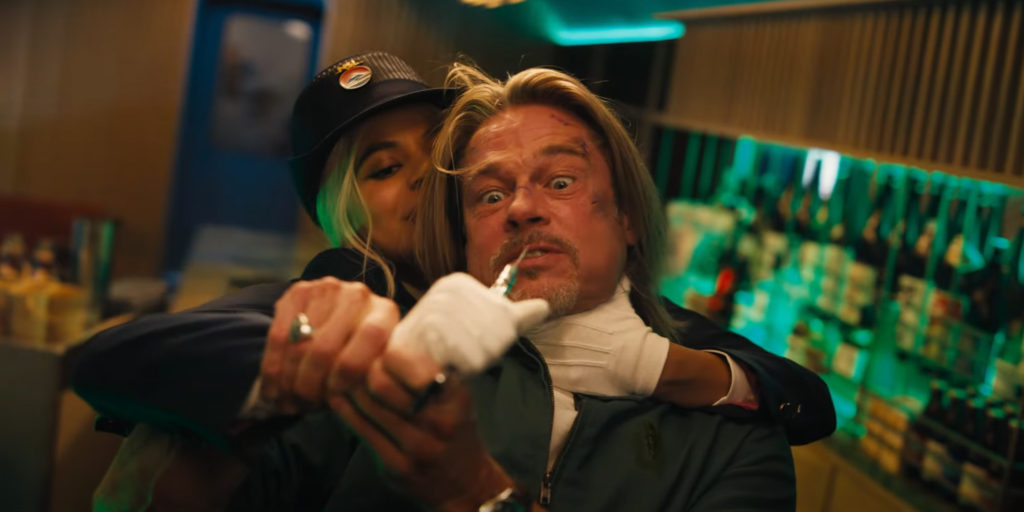 Directed by: David Leitch (Deadpool 2 – 2018)
Brad Pitt as Ladybug
Joey King as Prince
Aaron Taylor-Johnson as Tangerine
Brian Tyree Henry as Lemon
Andrew Koji as Yuichi Kimura
Hiroyuki Sanada as The Elder
Michael Shannon as "White Death"
Benito A Martínez Ocasio as The Wolf
Sandra Bullock as Maria Beetle
Zazie Beetz as Hornet
Logan Lerman as The Son
It is based on the Japanese novel Maria Beetle (published in English as Bullet Train) by Kōtarō Isaka. 
Trained killer Ladybug wants to give up the life but is pulled back in by his handler Maria Beetle in order to collect a briefcase on a bullet train heading from Tokyo to Kyoto. Onboard the train, he and other competing assassins discover their objectives are all connected.
There is no denying that Bullet Train is a high-octane and adrenaline-fueled Summer blockbuster through and through. Is it the best action movie out there? Not quite, but it's still plenty enjoyable with loads of action and a smattering of laughs sprinkled throughout. It's also clear that our lead, Brad Pitt, is having a blast with all the balls-to-the-wall chaos that ensues. At 58-years-old, the bona fide movie star is still effortless in his appeal, not to mention believability in the action hero role. On the plot front, well, it can get a bit too chaotic. With an often-convoluted web of interweaving storylines, it all plays out like a Guy Ritchie film (various people with various accents connected through various unsavory means). It's just not as smart. And while there are certainly some unexpected moments, there are just as many predictable ones. The movie's "destiny/luck" theme is also kind of hackneyed, as are some of the characters themselves. But, it never dulls the onscreen entertainment, as the neon coated action set pieces keep on rolling along with the language-altered soundtrack blaring in the background (the Japanese version of Staying Alive = really great). Throw in some surprise cameos and unique choreography, and you've got a satisfactory popcorn flick. In short, this bullet train is worth the gonzo ride it will take you on!