CHERRY – "Amounts to an ambitiously stylized showcase for Tom Holland's acting chops"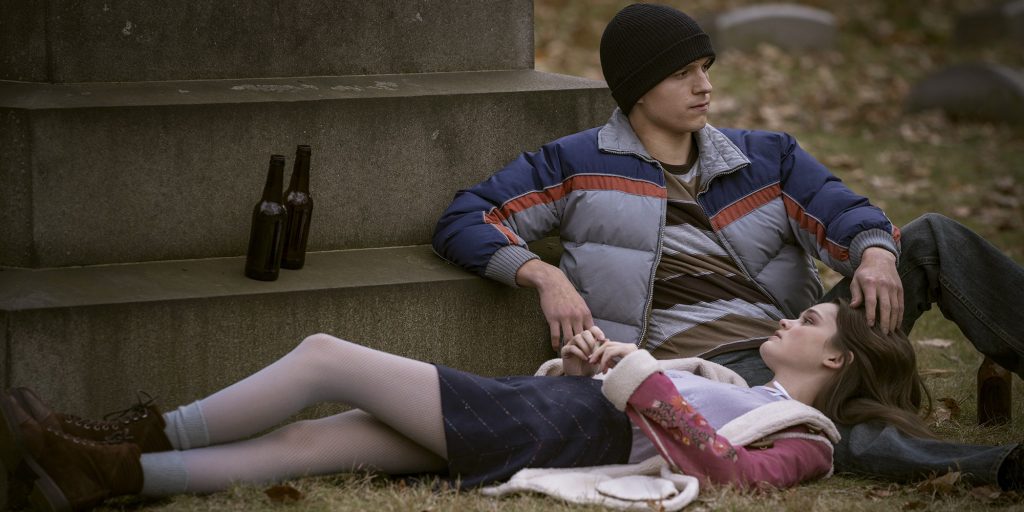 Anthony and Joe Russo (Avengers: Endgame – 2019)
Tom Holland as Cherry
Ciara Bravo as Emily
Jack Reynor as "Pills and Coke"
Michael Rispoli as Tommy
Jeff Wahlberg as Jimenez
Forrest Goodluck as James Lightfoot
Michael Gandolfini as Cousin Joe
Kyle Harvey as Roy
Pooch Hall as Sgt. Whomever
Is based on the novel of the same name by Nico Walker. 
The wild journey of a disenfranchised young man from Ohio who meets the love of his life, only to risk losing her through a series of bad decisions and challenging life circumstances.
Anthony and Joe Russo's latest cinematic venture, Cherry, pretty much amounts to an ambitiously stylized showcase for Tom Holland's acting chops. And in this respect, it works. Holland truly cements himself as a talented actor here, effectively taking on the many (and I mean MANY) strife's that come his character's way. It's a sprawling performance in a sprawling film, one that is made all the better for having the young star part of it. The main issue going against this picture, however, is that the story is overly familiar - and subsequently predictable, especially by the end. There is also the fact that, at nearly 2 and ½ hours, it feels like 3 movies in one. It's a journey alright, one that covers a lot of ground. Too much? This critic thinks so. But, helping it all go down smooth is our directors (the brothers Russo) and their interesting use of colour and stylization. It's flashier than what you'd expect from a movie tackling heavy subjects the likes of war and drugs. In a word, it's ambitious. Yep, there are certainly big risks being taken, but they unfortunately don't all work out. Let's just say it's right in the middle between "coherently challenged excess" and "visually exciting epic." That is to say, Cherry will likely be very divisive. That is unless it's a measurement for Tom Holland's acting skills - in which case, I think we can all be in agreement on that front!