CONCRETE COWBOY – "Quite the profoundly affecting urban western"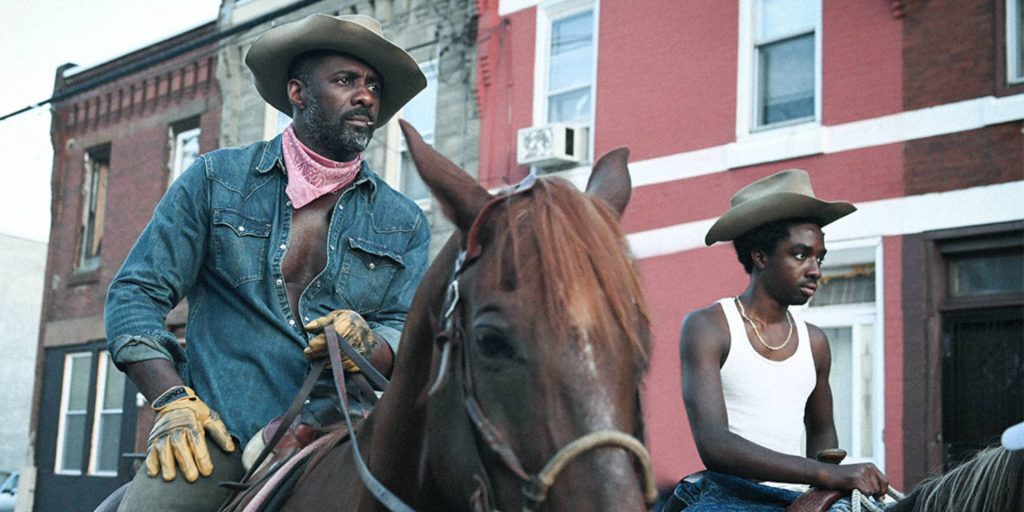 Idris Elba as Harp
Caleb McLaughlin as Cole
Jharrel Jerome as Smush
Byron Bowers as Rome
Lorraine Toussaint as Nessie
Clifford "Method Man" Smith as Leroy
Is based upon the novel Ghetto Cowboy by Greg Neri, is a fictionalization of the Fletcher Street Urban Riding Club and urban African-American horse-riding culture in Philadelphia, Pennsylvania.
Sent to live with his estranged father for the summer, a rebellious teen finds kinship in a tight-knit Philadelphia community of Black cowboys.
Ricky Staub's Concrete Cowboy is quite the profoundly affecting urban western! Ok, so the plot at hand is fairly predictable and borderline cliched, but it never once goes into "cheesy" territory. Engaging and heartfelt, the movie gets most of its mileage out of the thoroughbred cast of actors. Yes, Idris Elba is unsurprisingly great as the grizzled father out to teach his wayward son life's hard lessons, but it's Caleb McLaughlin who perhaps shines brightest. Shedding his teeny-bopper Stranger Things persona, McLaughlin has zero trouble delivering a deeply layered portrayal full of pent-up adolescent emotion. There's also something to be said for the film's horse-riding sequences, as Straub treats us to a plethora of visually striking moments between man and stallion. So yes, while you will undoubtably know how it will all turn out in the first 5 or so minutes, Concrete Cowboy makes for an effortlessly endearing exploration of black cowboy culture – and everything that life can throw at you.