DC LEAGUE OF SUPER-PETS – "Cute, funny, furry fun for the whole family"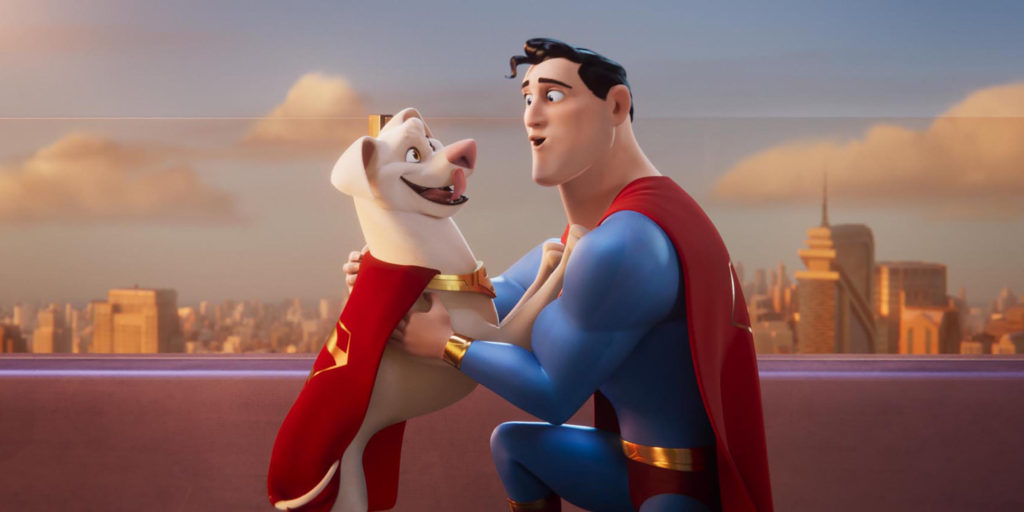 Directed by: Jared Stern (Directorial debut)
Dwayne Johnson as Krypto / Bark Kent / Superdog
Kevin Hart as Ace / Bat-Hound
Kate McKinnon as Lulu
John Krasinski as Kal-El / Clark Kent / Superman
Vanessa Bayer as PB
Natasha Lyonne as Merton McSnurtle / Terrific Whatzit
Diego Luna as Chip
Thomas Middleditch and Ben Schwartz as the guinea pigs
Keanu Reeves as Bruce Wayne / Batman
Marc Maron as Lex Luthor
Olivia Wilde as Lois Lane
Jameela Jamil as Diana Prince / Wonder Woman
Jemaine Clement as Arthur Curry / Aquaman
John Early as Barry Allen / The Flash
Daveed Diggs as Victor Stone / Cyborg
Dascha Polanco as Jessica Cruz / Green Lantern
It is based on the DC Comics superhero team Legion of Super-Pets.
When the Justice League is captured by Lulu and Lex Luthor, Superman's Labrador, Krypto, who was depowered in the process, forms a team of shelter pets who were given superpowers to save his owner and Superman's friends: a Boxer named Ace, who becomes super strong and indestructible; a potbellied pig named PB, who can grow to giant-size; a turtle named Merton, who becomes super fast; and a squirrel named Chip, who gains electric powers.
A gateway into the wonderful world of DC comics superheroes, DC League of Super-Pets is nothing short of cute, funny, furry fun for the whole family! Yes, this is the superhero genre at its most accessible for little ones, but that doesn't make it any less entertaining for the adult crowd. Au contraire, as there's enough meta-humour and in-jokes to keep the biggest of fan boys and girls happy. But, most importantly, there's an engaging story at hand. I mean, it's pretty predictable and needlessly over-the-top, but there's enough (ahem) meat on the bone to keep things interesting for the 1 hour and 46 minute runtime. Also keeping our attention span perked up high is the capable voice cast that has been assembled. We already knew that Dwayne Johnson and Kevin Hart have chemistry for days, but now we know that that chemistry also translates to animation. Plus, the likes of Natasha Lyonne, Keanu Reeves and Kate McKinnon give their respective characters plenty of gusto. If anything, go in for the A-list voice cast alone! So yes, while DC League of Super-Pets isn't going to soar its way to the top of anybody's favorite animated movie list, it will surely receive a heroes reception based on its ability to keep us entertained. And for that, these pets deserve a treat!