DORA AND THE LOST CITY OF GOLD – "Sweet, silly and self-aware"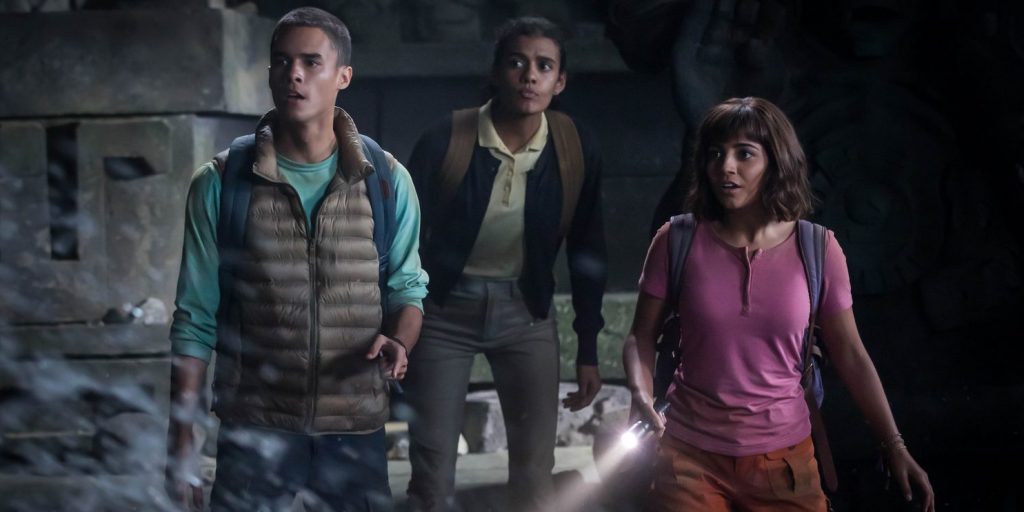 James Bobin (The Muppets – 2011)
Isabela Moner as Dora
Eugenio Derbez as Alejandro Gutierrez
Michael Peña as Cole, Dora's father
Eva Longoria as Elena, Dora's mother
Jeff Wahlberg as Diego, Dora's cousin
Nicholas Coombe as Randy
Madeleine Madden as Sammy
Temuera Morrison as Powell
Benicio del Toro as Swiper the Fox
Is a live-action adaptation and continuation of Nickelodeon and Nick Jr.'s television series Dora the Explorer. 
Having spent most of her life exploring the jungle with her parents, nothing could prepare Dora for the most dangerous adventure ever – high school. Dora quickly finds herself leading Boots (her best friend, a monkey), her cousin Diego, and a rag tag group of teens on an adventure to save her parents and solve the impossible mystery behind a lost Inca civilization.
Sweet, silly and self-aware, this live-action adaptation of Dora The Explorer is way more entertaining than it has any right to be! There are some movies that just surprise you, and this ladies and gentlemen, is one of them. What we get is an incredibly likeable cast in a genuinely exhilarating story full of wonder and adventure. Plus, it's actually funny – and not the "so bad it's funny" kind that I had anticipated. The fact that the movie knows what it is, and has fun with that, helps immensely. I mean, how else could they get away with a talking fox and monkey in an otherwise "grounded" world? The film does lag by the end though, and has its fair share of juvenile and predictable moments (I know, I know – it's for kids). But trust me, as someone who was dreading this cinematic Dora experience, I may or may not be secretly hoping for a sequel. Yeah, you read that right.





Black Christmas
$4.4 million