DUNE – "Visually stunning and narratively challenging in the best ways possible"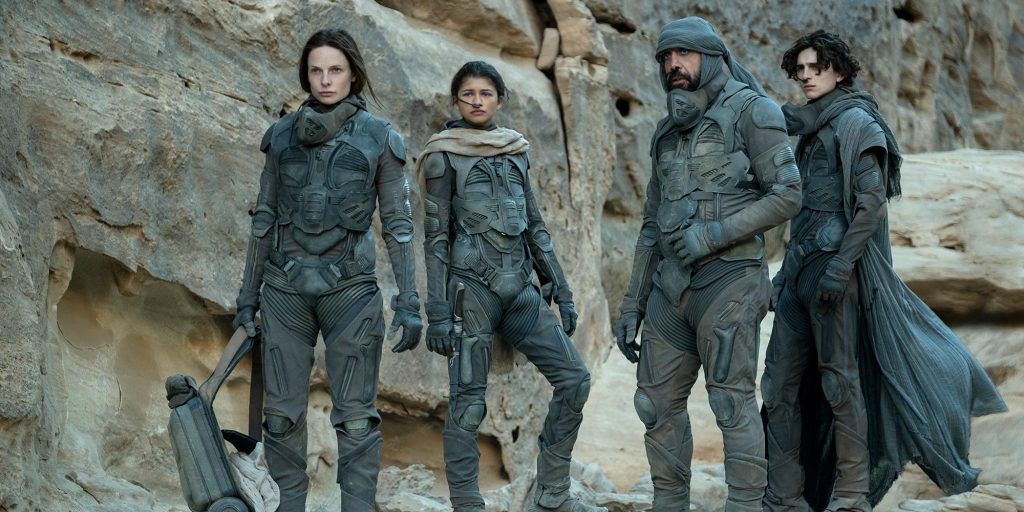 Denis Villeneuve (Blade Runner 2049 – 2017)
Timothée Chalamet as Paul Atreides
Rebecca Ferguson as Lady Jessica
Oscar Isaac as Duke Leto Atreides
Josh Brolin as Gurney Halleck
Stellan Skarsgård as Baron Vladimir Harkonnen
Dave Bautista as Glossu Rabban
Stephen McKinley Henderson as Thufir Hawat
Zendaya as Chani
David Dastmalchian as Piter De Vries
Sharon Duncan-Brewster as Dr. Liet-Kynes
Charlotte Rampling as Gaius Helen Mohiam
Jason Momoa as Duncan Idaho
Javier Bardem as Stilgar
Babs Olusanmokun as Jamis
Benjamin Clementine as Herald of the Change
It is the first of a planned two-part adaptation of the 1965 novel of the same name by Frank Herbert.
 Paul Atreides, a brilliant and gifted young man born into a great destiny beyond his understanding, must travel to the most dangerous planet in the universe to ensure the future of his family and his people. As malevolent forces explode into conflict over the planet's exclusive supply of the most precious resource in existence, only those who can conquer their own fear will survive.
Visually stunning and narratively challenging in the best ways possible, director Denis Villeneuve has done the impossible – made Dune watchable. Whether you've just heard about, or have actually seen, the overly ambitious (and brain-numbing) adaptation from the 80's, fear not – this film is plenty coherent. For one, the story has been spliced, marking this instalment as chapter 1 of 2. Don't get me wrong, there is still A LOT of story told here, 2 hours and 35 minutes worth to be exact. And yes, it can be more than a bit overwhelming for "newbies," but, once you find your footing in this futuristic landscape and learn the power players (which doesn't take long) things start to fall perfectly into place. The heavy sci-fi plot is full of wondrous imagination, playing with everything from galactic politics to congenital superpowers. Sure, there's some science fiction mumbo jumbo, but it's no different than other such futuristic epics. Making this all work as well as it does, mind you, are the cast of characters at hand. And despite the extraordinary actors involved (Oscar Isaac and Rebecca Ferguson to name a few), this is Timothee Chalamet's star vehicle through and through. The young actor is affable, charming and easy to root for – never once getting lost in the expansive setting of it all. And speaking of those visual backdrops, well, if you've seen a Denis Villeneuve movie before, you know what you're in for – a spectacular feast for the eyes. The scope in which Villeneuve has created is awe inspiring, as are the designs for such things as the spaceships and sand worms (I personally needed more sand worms though). It's all so intricate and voyeuristic – another "hang any frame on the wall as a piece of art" type of film. Yes, Dune is that impressive. Just do yourself a favour and see it on the biggest screen you can find!