ENOLA HOLMES – "Full of wonderful whimsy and infectious energy"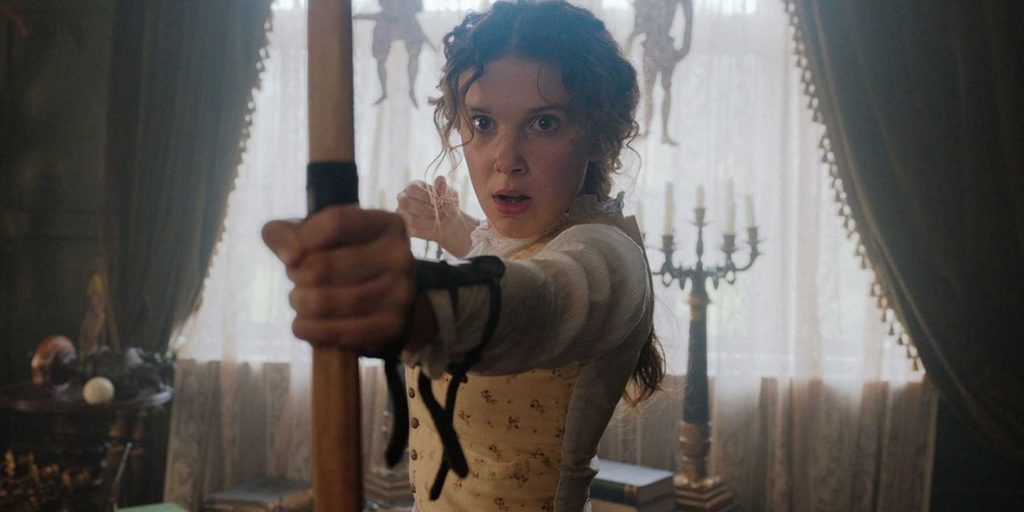 Millie Bobby Brown as Enola Holmes
Henry Cavill as Sherlock Holmes
Sam Claflin as Mycroft Holmes
Helena Bonham Carter as Eudoria Holmes
Louis Partridge as Lord Viscount Tewksbury
Adeel Akhtar as Inspector Lestrade
Fiona Shawas Miss Harrison
Frances de la Tour as Tewksbury's grandmother
Is based on the book series of the same name by Nancy Springer. 
When Enola Holmes-Sherlock's teen sister-discovers her mother missing, she sets off to find her, becoming a super-sleuth in her own right as she outwits her famous brother and unravels a dangerous conspiracy around a mysterious young Lord.
Full of wonderful whimsy and infectious energy, Enola Holmes makes for some good old-fashioned fun! Yep, this is one "young adult" film that really hits its mark thanks in part to a spirited performance from our lead, Millie Bobby Brown. Here, Brown gets to let her hair down so to speak, truly shining as Enola - a cunning and brave junior sleuth with something to prove to her older brothers. Enola is filled with innocent goodness, making her a rather refreshing character in this day and age (especially in comparison to other young teen properties). Needless to say, there is a big female empowerment theme going on here. The movie also benefits from some great stylization choices, not to mention beautifully crafted production design elements. But, oddly enough, it's the movie's perfectly brisk pace that makes it most enjoyable, as we are whisked off on one meaningful and exciting encounter to another. So, perhaps the only mystery left to solve, is just how long it'll take Netflix to green-light a sequel? My guess- not very!

Honest Thief
$3.7 million



The Nightmare Before Christmas
$1.323 million

Hocus Pocus
$0.756 million