ENOLA HOLMES 2 – "A spirited sequel with flair to spare"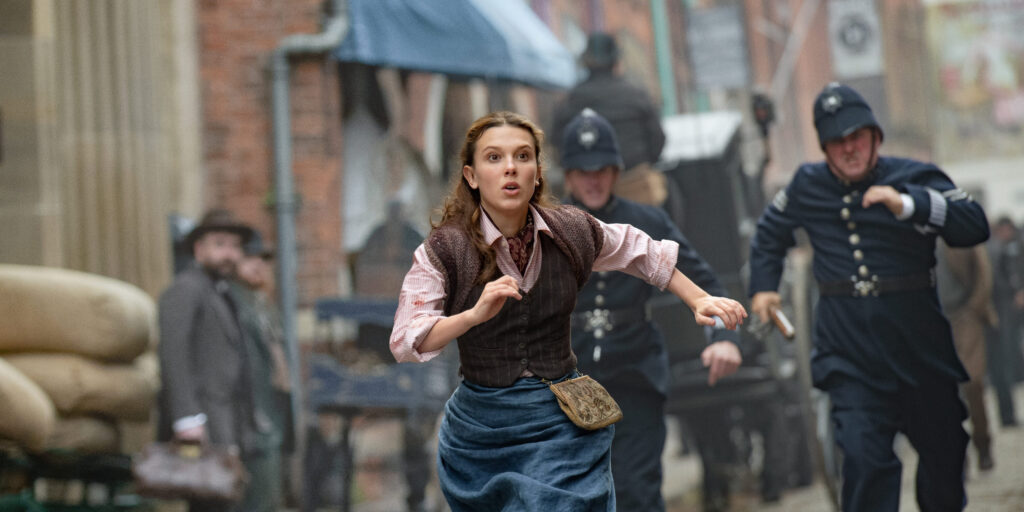 Directed by: Harry Bradbeer (Enola Holmes – 2020)
Millie Bobby Brown as Enola Holmes
Henry Cavill as Sherlock Holmes
Louis Partridge as Viscount Tewkesbury
Adeel Akhtar as Lestrade
Susie Wokoma as Edith
Helena Bonham Carter as Eudoria Holmes
It is based on the young adult fiction series of the same name by Nancy Springer. Serving as a sequel to the 2020 film Enola Holmes.
Enola Holmes takes on her first case as a detective, but to unravel the mystery of a missing girl, she'll need some help from friends -- and brother Sherlock.
There's no mystery about it, Enola Holmes 2 is a spirited sequel with flair to spare. Yep, Millie Bobby Brown has quite the promising franchise on her hands, one that truly allows her to let her hair down and embrace some good ol' fashioned fun. But this time around, the cunning and brave character gets more screen time with her famous brother, Sherlock. That's a good thing, though. You see, the chemistry between Brown and Henry Cavill is genuinely great. These sibling sleuths make for quite the entertaining watch, each playing off each other's unique personality quirks. But don't worry ladies, despite the influx of male screen time, the story's theme continues to focus on female empowerment. This is a true "girl power" series if there ever was one. The plot is also quite enjoyable, mixing some textbook history with fanciful narrative additions. I don't think the mystery is as smart as they think it is however, but it's amusing none-the-less. I guess it is a "who dunnit" for the pre-teen crowd, so they can't really go all "Knives Out" on us. There is something to be said for the film's energy though, as it's once more incredibly infectious. Thanks to some brisk pacing and inspired stylization, the 2-hour-plus runtime goes by in a breeze. Yes, there's no question about it, the evidence adds up - this is a worthy continuation that deserves yet another!