ETERNALS – "An eclectic and elegant superhero experience"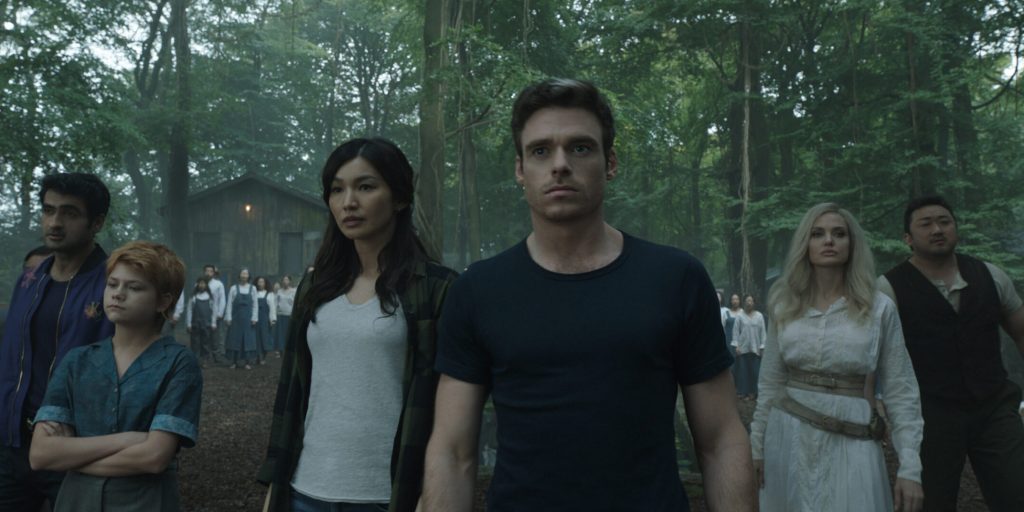 Chloé Zhao (Nomadland – 2020)
Gemma Chan as Sersi
Richard Madden as Ikaris
Kumail Nanjiani as Kingo
Lia McHugh as Sprite
Brian Tyree Henry as Phastos
Lauren Ridloff as Makkari
Barry Keoghan as Druig
Don Lee as Gilgamesh
Harish Patel as Karun
Kit Harington as Dane Whitman
Salma Hayek as Ajak
Angelina Jolie as Thena
It is based on the Marvel Comics race of the same name.
 After the return of half the population in Avengers: Endgame ignites "the emergence", the Eternals—an immortal alien race created by the Celestials who have secretly lived on Earth for over 7,000 years—reunite to protect humanity from their evil counterparts, the Deviants.
An eclectic and elegant superhero experience, Eternals blows open the Marvel Cinematic Universe with even bigger fantasy storytelling. Let's get one thing out of the way – the movie looks great. Director Chloe Zhao has given the Marvel landscape an even bigger and lusher dimension. And, as with Zhao's Oscar winning film Nomadland, the cinematography is simply awe-inspiring. The sweeping scenery pairs perfectly with the colossal action sequences. Not so perfect, however, is the film's narrative structure. With a series of disjointed and lingering flashback sequences, the movie loses all sense of natural rhythm. In short, it has a pacing problem. It doesn't help that there is plenty of intergalactic interchange and cosmic mumbo jumbo to wrap our heads around. Not that it's confounding, just a lot to take in – and for a Marvel film, that's saying something. The ambitious plot comes together by the end though, leaving a rather big impression. And hey, the mid and post credit scenes are real crowd-pleasers (at least they were in my screening). The cast is also an enjoyable mix. The diversity certainly deserves applauding, but so do the actors leading the charge. And while Richard Madden and Gemma Chan do most of the heavy lifting, Angelina Jolie and Brian Tyree Henry surprise the most with some wonderfully affecting work. So, while not the thrill-a-minute joyride you might be used to, this MCU film adds a little prestige drama to the familiar Marvel mix. It's not always seamless (by any means), but it still makes for a fantastical watch!