EUROVISION SONG CONTEST: THE STORY OF FIRE SAGA – "A grandiose goofy spectacle with a surprising amount of heart"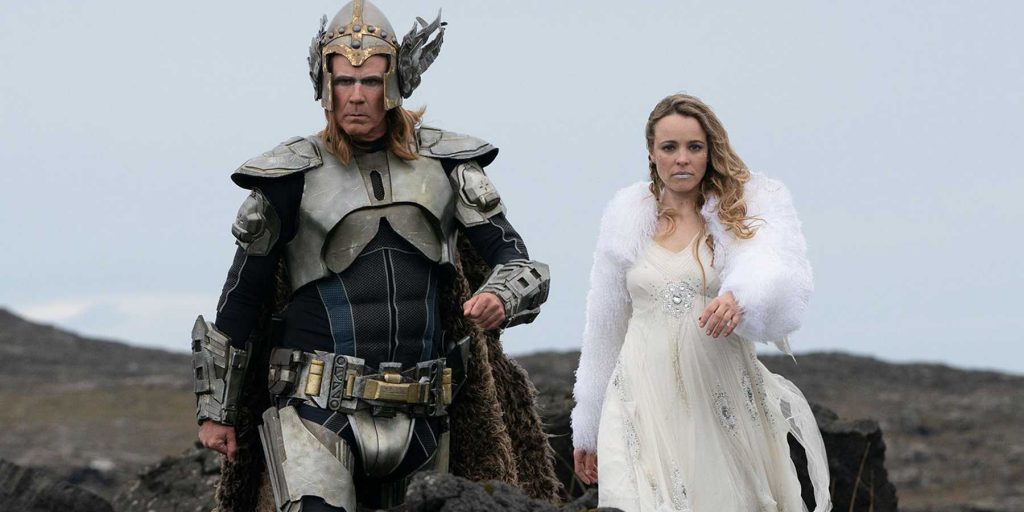 David Dobkin (Wedding Crashers – 2005)
Will Ferrell as Lars Erickssong
Rachel McAdams as Sigrit Ericksdottir
Pierce Brosnan as Erick Erickssong
Dan Stevens as Alexander Lemtov
Demi Lovato as Katiana
Graham Norton as himself
Ólafur Darri Ólafsson as Neils Brongus
Is based on the annual Eurovision Song Contest put on by the European Broadcasting Union.
Two small-town singers chase their pop star dreams at a global music competition, where scheming rivals, high stakes and onstage mishaps test their bond.
Much like the mega event it satirizes, Eurovision Song Contest: The Story of Fire Saga is a grandiose goofy spectacle with a surprising amount of heart. It also happens to be overlong and overstuffed. At a little over 2 hours, the film is packed with over the top gags and big comedy set pieces that range from laugh out loud funny to mildly forced chuckle. The story isn't intricate by any stretch of the imagination (nor is it overly original), so there's no real need to have it stretched as long as it is. The biggest and best thing the movie has going for it, however, are the performances. Will Ferrell and Rachael McAdams are a real treat to watch here, as they go all in with their wacky characters while still managing to bring some unexpected emotional heft. And as great (and frankly hilarious) as the pair is, it is actually Dan Stevens who steals things with his uproarious turn as the lascivious Russian competition. The music on display is also rather fun, making for some elaborate moments of kitschy lavishness! So, while the film does manage to hit the comedy high notes at times, it unfortunately lags too much to sustain it.