EVIL DEAD RISE – "One hell of a nail-biting bloodbath"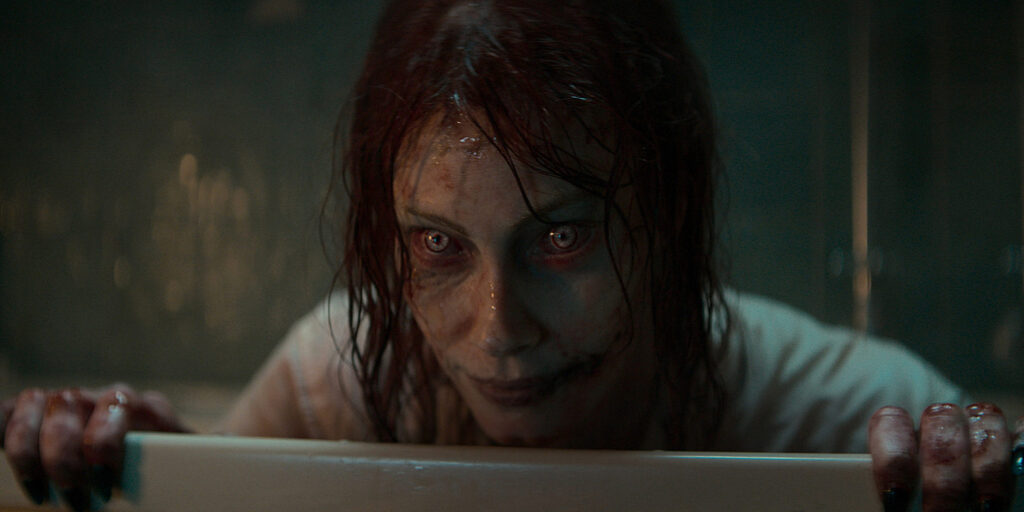 • Lily Sullivan as Beth
• Alyssa Sutherland as Ellie
• Morgan Davies as Danny
• Gabrielle Echols as Bridget
• Nell Fisher as Kassie
• Richard Crouchley as Caleb
• Mirabai Pease as Teresa
• Anna-Maree Thomas as Jessica
It is the fifth installment of the Evil Dead film series.
After a long journey on the road, Beth visits her older sister Ellie, who is struggling to raise three children alone in a small Los Angeles apartment. However, their reunion is interrupted when they find a strange book hidden in the depths of Ellie's building, which unleashes horrid flesh-possessing demons.
One hell of a nail-biting bloodbath, Evil Dead Rise is morbidly gruesome horror done right! It's not all limb-ripping and gut-splattering bloodletting mind you, there's also a masterful deconstruction of the characters at play. Plus, it nods nicely to the long running supernatural horror franchise, while still doing its own thing. And what a thing it is! Yes, this is unadulterated nightmare fuel through and through. Our director, Lee Cronin, imbues the film with all manner of creep-tastic imagery that is sure to linger in the recesses of your brain (only to come out when you're trying to sleep). There's some great camera techniques and effects used to accomplish all the shockingly horrid visuals. To be sure, a lot of the credit needs to go to our cast of actors (young and old), each of whom definitely understood the assignment. The biggest accomplishment, however, is the script. In a world where there have been so many different horror movies about so many different things, it's impressive to have a story that stands out as smart and affecting as it is terrifying. I mean, they play with common horror tropes, but there's more than enough narrative freshness to go around. Is it a little overkill by the end? Yes – both figuratively and literally. But, that's par for the course with the Evil Dead I suppose. Regardless, Evil Dead Rise stands as a gore-filled treat for us horror connoisseurs. And I say, eat up!