FALLING FOR CHRISTMAS – "A goofy, dumb bushel of fun"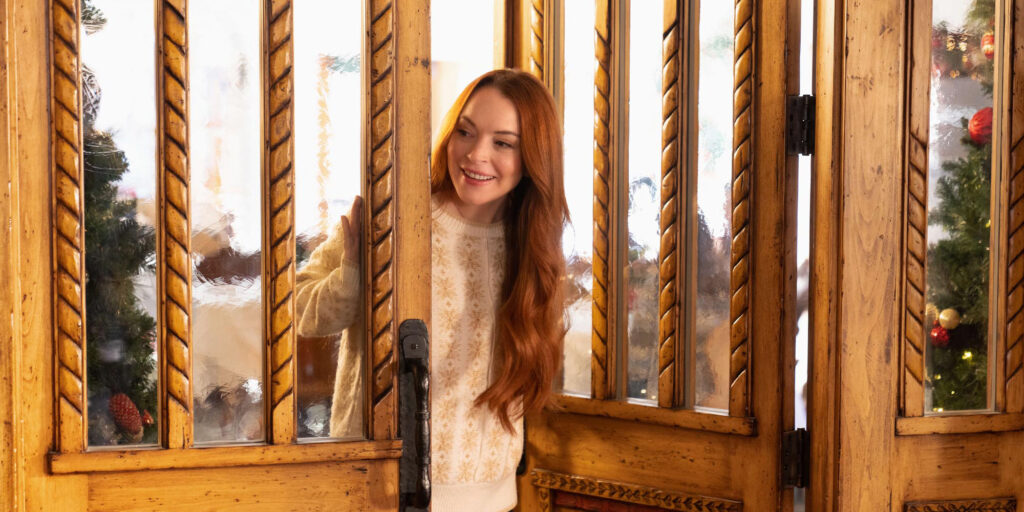 Directed by: Janeen Damian (Directorial debut)
Lindsay Lohan as Sierra Belmont
Chord Overstreet as Jake
George Young as Tad
Jack Wagner as Beauregard Belmont
Olivia Perez as Avy
Alejandra Flores as Alejandra Carlisle
Chase Ramsey as Terry Carver
It marks Lindsay Lohan's first role in a major production in over a decade.
A young, newly engaged heiress has a skiing accident in the days before Christmas. After she is diagnosed with amnesia, she finds herself in the care of the handsome cabin owner and his daughter.
Exactly as advertised, Lindsay Lohan's Falling for Christmas is a goofy, dumb bushel of fun. Ok, so this is not going to garner awards recognition or put Lohan into any A-list acting circles, but it sure as all heck will entertain your cozy little socks off. That's because everyone involved is embracing the cheese and welcoming the cliches (and boy do they use up all of them here). In short, the fun being had onscreen is infective. And while the plot is as standard as they come in this overly saturated "made-for-TV Christmas movie" genre, there's no denying it works. Afterall, it's the comforting predictability that makes these types of films so darn popular. I must say, however, that the movie's production design is an odd mix between looking cheap and expensive - at the same time. Regardless of its look, the reason most will be watching to begin with is the star at hand. And, for her part, Lindsay is effortless in her appeal. It's admittedly really great to see her looking good and exuding the same charm she was once known for. I mean, this isn't Mean Girls or anything, but it's a step up from some of her later acting attempts (The Canyons anyone?). Oh, and her co-star, Chord Overstreet, is fine as well. It's just that with the way these characters are written, he could have easily been interchanged with another good-looking actor and it still would have had the same result. So, while Falling for Christmas isn't the shiniest present under the tree, it's no sock of coal either. It's more of an enjoyable stocking stuffer, and that's not such a bad thing now, is it?