GOOD BOYS – "Has as much heart as it does F-bombs"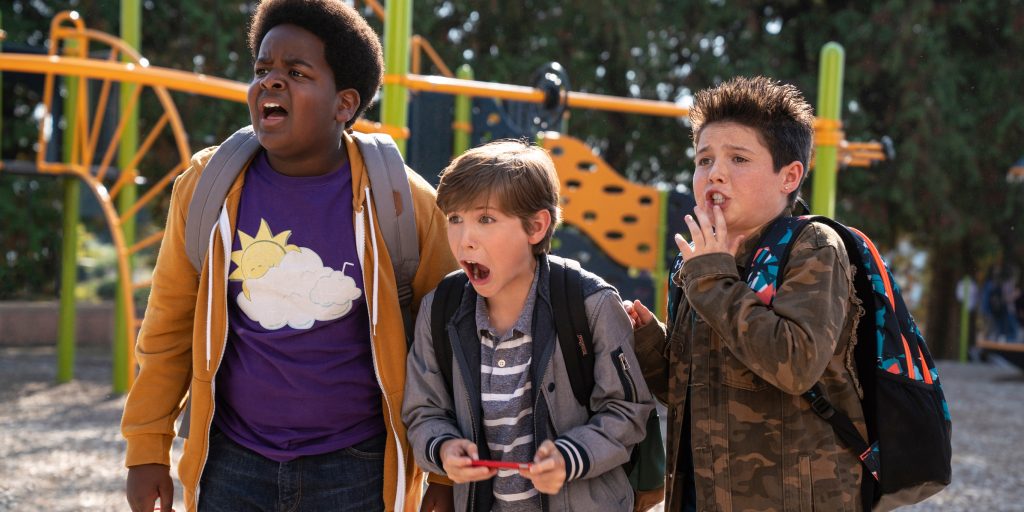 Gene Stupnitsky (Directorial debut)
Jacob Tremblay as Max
Brady Noon as Thor
Keith L. Williams as Lucas
Will Forte as Max's father
Molly Gordon as Hannah
Midori Francis as Lily
Josh Caras as Benji
Christian Darrel Scott as Marcus
Lil Rel Howery as Lucas' father
Sam Richardson as Officer Sacks
Seth Rogen and Evan Goldberg serve as producers through their Point Grey Pictures production company.
Invited to his first kissing party, 12-year-old Max asks his best friends Lucas and Thor for some much-needed help on how to pucker up. When they hit a dead end, Max decides to use his father's drone to spy on the teenage girls next door. When the boys lose the drone, they skip school and hatch a plan to retrieve it.
Good Boys, a lewd and crude tween friendship film, ultimately has as much heart as it does F-bombs. Yep, beyond all the R-rated raunch (and there's A LOT of it) this is really nothing more than a sweet coming-of-age story. No, seriously. Admittedly though, things can get uncomfortable at times with, you know, watching sixth-grade boys say and do very grownup things. Like what, you ask? Well, they are handling sex toys, navigating porn sites, tasting beer, negotiating drug deals, sweet talking sex dolls… I think you get the picture. But, as hard as it might be to believe, it's all done with juvenile innocence. That comedic innocence is brought to life by a talented cast of kids the likes of Jacob Tremblay, Brady Noon and Keith L. Williams. And while Tremblay is the strongest actor in the bunch, Williams steals just about every scene he's in. Now, the film's biggest issue comes courtesy of the constant repetitive humour. Here, the writers lay out pretty much the same gags over and over again, with only slight differences. But even if some of the vulgar-ness gets old fast, our young cast's infectious bond sure doesn't. And for that, Good Boys teeters on F'n great!