HALLOWEEN KILLS – "Brutal and graphic gore leads to slasher heaven"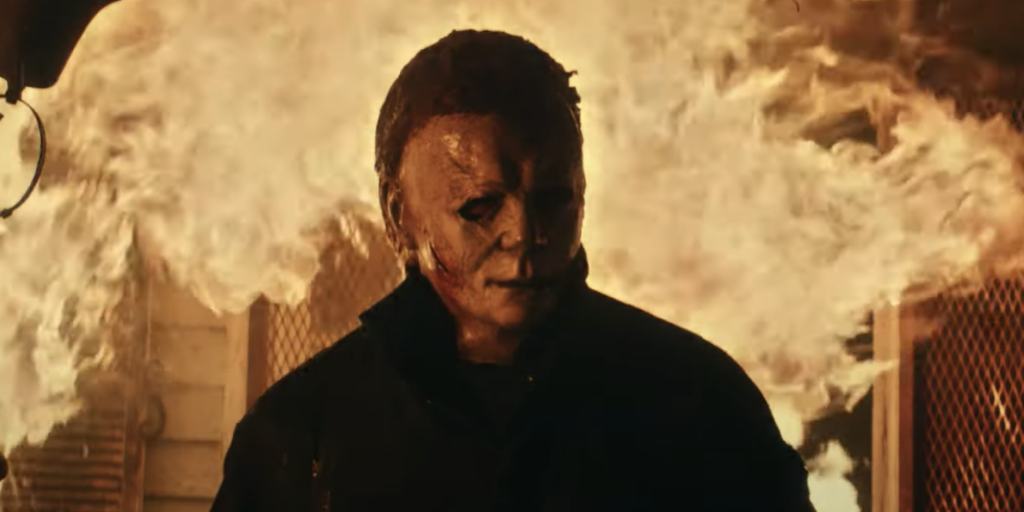 David Gordon Green (Halloween – 2018)
Jamie Lee Curtis as Laurie Strode
James Jude Courtney and Nick Castle as Michael Myers
Judy Greer as Karen Nelson
Andi Matichak as Allyson Nelson
Will Patton as Deputy Frank Hawkins
Anthony Michael Hall as Tommy Doyle
Kyle Richards as Lindsey Wallace
Nancy Stephens as Marion Chambers
Robert Longstreet as Lonnie Elam
Charles Cyphers as Leigh Brackett
Dylan Arnold as Cameron Elam
Omar Dorsey as Sheriff Barker
Brian F. Durkin as Deputy Graham
It is a sequel to 2018's Halloween and the 12th installment in the Halloween franchise.
After Laurie Strode, her daughter Karen, and granddaughter Allyson leave Michael Myers caged in the basement of Laurie's burning house, Michael manages to free himself when firemen arrive on the scene. The Strode women join a group of other survivors that decide to form a mob to hunt Michael.
Brutal and graphic gore leads to slasher heaven in David Gordon Green's Halloween Kills. Yep, it's a skull crunching, eyeball squeezing, throat slashing kinda sequel, and if that's not your thing, then this will definitely not be your movie. The doubling down on viciousness only makes our main monster that much more terrifying. I've honestly never been more afraid of 'ol slow walking Michael Myers than I was watching this film. He really is the ultimate boogeyman here, and nobody (and I mean nobody) is safe. That is to say that the body count is high, and in some cases, the kills are quite surprising. But, while the movie nicely honours some of the franchise's past players, it does a major disservice by sidelining the previous film's standout, Jamie Lee Curtis. Yes, she is in the film, but is criminally given little to nothing to do. Now, to be fair, this film is the middle piece in an already planned threequel, so "filler" was to be expected before Curtis's Laurie Strode gets her concluding showdown with Jason. It's just a waste to see her not involved in more of the narrative this time around. But, anyway you slice, dice and stab it, Halloween Kills succeeds at bringing some intense frightful thrills, and frankly, that's more than enough to hold me over for the final entry!