HERE ARE THE YOUNG MEN – "An appropriately in-your-face dissection of toxic masculinity"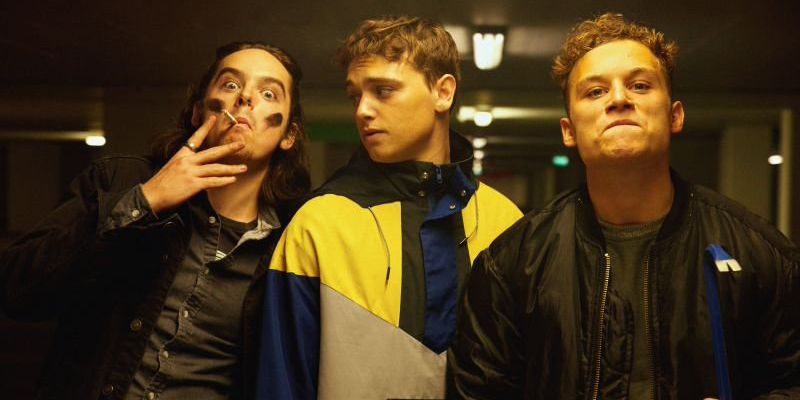 Dean-Charles Chapman as Matthew
Finn Cole as Kearney
Anya Taylor-Joy as Jen
Ferdia Walsh-Peelo as Rez
Lola Petticrew as Julie
Is based on the novel of the same name by Rob Doyle.
Here Are The Young Men catalogs the last hurrah of three high school graduates intent on celebrating their newfound freedom with an epic, debaucherous bender. However, when a horrible accident sends them spiralling, the trio must grapple with the most daunting challenge of their lives: facing their own inner demons.
The Irish teen coming-of-age drama, Here Are The Young Men, is an appropriately in-your-face dissection of toxic masculinity. It's brash and bold, yes – but, sadly, all too familiar. It's a tale of teen discovery in the face of tragedy. A story of friends at a crossroads in their young lives. A journey of looking inward. It's, well, something you've probably seen told any number of ways on any number of TV shows and movies over the years. The good news is that it's packed with dynamic performances. For starters, our lead trio of friends are easily believable in their debaucherous and formative outings, all while Anya Taylor Joy is once more a major highlight playing the voice of reason. There's also something to be said for the film's stylization and use of imagery. For one, the filmmakers do some interesting things within the context of a faux American talk show. Frankly, it's a narrative risk, but it's one that adds a nicely different dimension to the proceedings. And, with a story like this, I'll take "different" any way I can get it. The film does have a bit of a shaky finish, though. Without going into spoiler territory, let's just say it's a bit too "inconclusive." What I can conclude, however, is that this film nails home a number of important lessons. So, if you are a young man yourself, or have some in your household, I'd say this is a rather beneficial watch!


Demon Slayer the Movie: Mugen Train
$3 million