IN THE HEIGHTS – "A must-see mix of musical and visual splendor"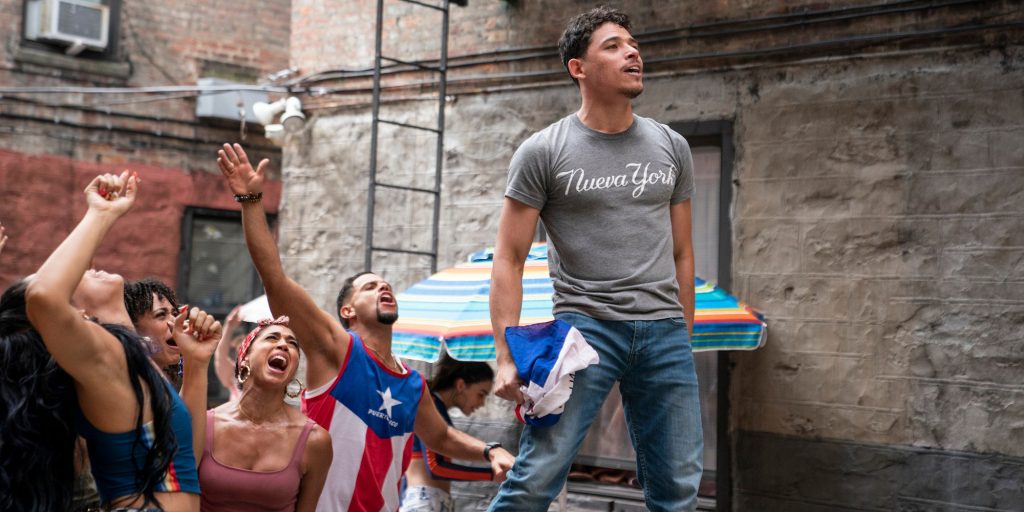 Jon M. Chu (Crazy Rich Asians – 2018)
Anthony Ramos as Usnavi de la Vega
Corey Hawkins as Benny
Leslie Grace as Nina Rosario
Melissa Barrera as Vanessa
Olga Merediz as "Abuela" Claudia
Daphne Rubin-Vega as Daniela
Gregory Diaz IV as Sonny de la Vega
Jimmy Smits as Kevin Rosario
Stephanie Beatriz as Carla
Dascha Polanco as Cuca
Lin-Manuel Miranda as Piraguero
Marc Anthony as Mr. de la Vega
It is based on the stage musical of the same name by Quiara Alegría Hudes and Lin-Manuel Miranda.
 Lights up on Washington Heights... The scent of a cafecito caliente hangs in the air just outside of the 181st Street subway stop, where a kaleidoscope of dreams rallies this vibrant and tight-knit community. At the intersection of it all is the likeable, magnetic bodega owner Usnavi, who saves every penny from his daily grind as he hopes, imagines and sings about a better life.
There's perhaps no other way to put it - In The Heights is a must-see mix of musical and visual splendor! From the lush production design to the joyous story, Jon M. Chu's musical adaptation of Lin-Manuel Miranda's Broadway play is impossible to dislike (unless of course you really hate musicals). For one, the characters are sincerely refreshing. And while everybody wholeheartedly brings the goods, it's Anthony Ramos who is surely going to charm the most pants off. The young actor's energy and charisma are perhaps just as infectious as those exuberant musical numbers. The many catchy rap and hip hop outbursts mix heartfelt singing with awe-inspiring dancing. Trust me, the show-stopping set pieces really are quite something to behold (I'm still not over the "dislocating limb" dance-routine in the pool). But, above all the lively onscreen beauty and sun-infused fun, the film ultimately serves as a celebration of the Latino community and its undeniable spirit. With everything that has (and continues) to happen in the world, the loving themes hit that much harder. And even though not every plot point is developed to its fullest, the end result remains a feel-good symphony of emotions. Enjoy the high!