IT CHAPTER TWO – "It's intense. It's creepy. It's disturbing. It's a tad overlong"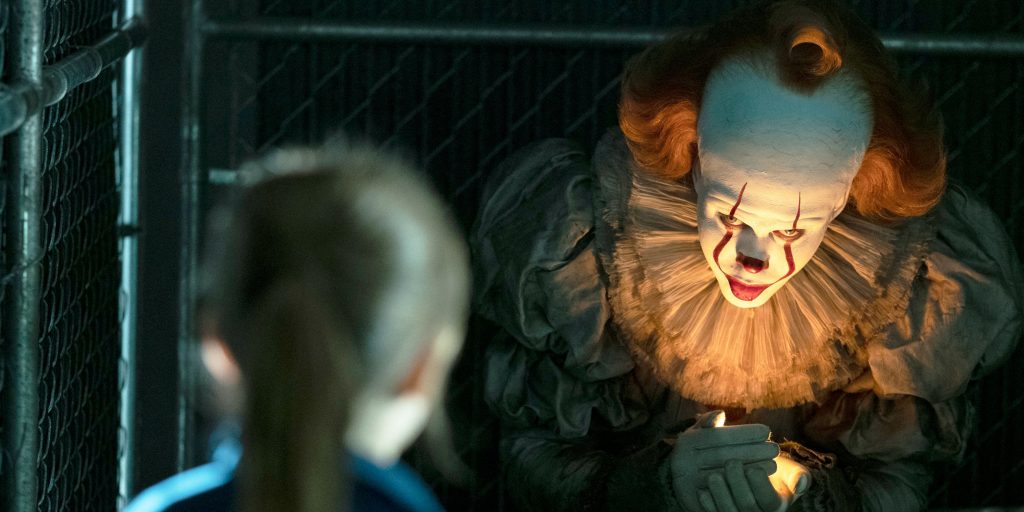 Andy Muschietti (It- 2019)
Bill Skarsgård as Pennywise
James McAvoy as Bill Denbrough
Jaeden Martell as young Bill Denbrough
Jessica Chastain as Beverly Marsh
Sophia Lillis as young Beverly Marsh
Jay Ryan as Ben Hanscom
Jeremy Ray Taylor as young Ben Hanscom
Bill Hader as Richie Tozier:
Finn Wolfhard as young Richie Tozier
Isaiah Mustafa as Mike Hanlon
Chosen Jacobs as young Mike Hanlon
James Ransone as Eddie Kaspbrak
Jack Dylan Grazer as young Eddie Kaspbrak
Is the sequel to the 2017 film It, and is also based on the 1986 novel by Stephen King. 
27 years after the Losers Club defeated Pennywise, IT returns to terrorize the town of Derry once more. Now adults, the Losers have long since gone their separate ways. However, kids are disappearing again, so Mike, the only one of the group to remain in their hometown, calls the others home. Damaged by the experiences of their past, they must each conquer their deepest fears to destroy Pennywise once and for all...
It's intense. It's creepy. It's disturbing. It's a tad overlong. Yes, IT Chapter Two is many things, but luckily, they are mostly good. You see, the goal of this film was not to top the 2017 phenomenon that was IT Chapter One (still the highest grossing horror movie of all time btw), but essentially, to not screw it up. And well, they succeeded - and then some. The craftsmanship here is once more top of the line with gorgeous cinematography and production design to be found throughout. The special FX team also deserve major kudos, as there are more than a handful of wonderfully executed CGI gross-out body horror / monster moments. The movie's biggest asset however, as with the previous instalment, is the flawless casting. Everyone, from the adult "losers" to their kid counterparts, delivers with A+ performances in their respective roles. And while Skarsgård is once more pure nightmare fuel as 'ol Pennywise, it's perhaps Bill Hader's turn as the wisecracking, yet troubled, Richie Tozier that steals the show. As for plot, it's all fairly satisfying, albeit peppered with a few too many "jumps to the past." Otherwise, each character is given more than enough room to let their personal journey unfold adequately. Of course, that also becomes a slight issue here, as there are LOTS of characters, and LOTS of stories to tell, thus making for a rather overlong viewing experience (we're talking a little under 3 hours - so get comfy). The movie is also less scary this time around, mostly because we have already seen the monster clown's tricks before. But trust me, it remains creepy as all hell, and you'll find more than a few effective jump scares thrown in for good measure. So here's the thing, while It: Chapter Two doesn't best the first part, it no doubt builds on it for a super strong send-off.