JOHN WICK: CHAPTER 4 – "An unrelenting jaw dropper"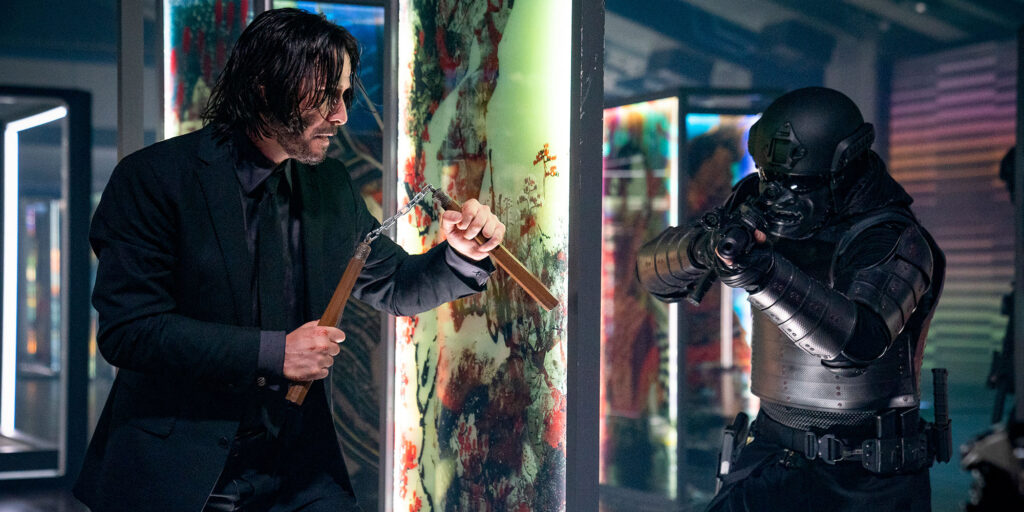 Directed by: Chad Stahelski (John Wick: Chapter 3 – Parabellum - 2019)
• Keanu Reeves as Jonathan "John" Wick
• Donnie Yen as Caine
• Bill Skarsgård as the Marquis Vincent de Gramont
• Laurence Fishburne as the Bowery King
• Hiroyuki Sanada as Shimazu Koji
• Shamier Anderson as the Tracker / Mr. Nobody
• Lance Reddick as Charon
• Rina Sawayama as Akira
• Scott Adkins as Killa
• Ian McShane as Winston Scott
It is the fourth installment in the John Wick franchise and direct sequel to John Wick: Chapter 3 – Parabellum (2019).
With the price on his head ever increasing, legendary hit man John Wick takes his fight against the High Table global as he seeks out the most powerful players in the underworld, from New York to Paris to Japan to Berlin.
An unrelenting jaw dropper, John Wick: Chapter 4 delivers an epic action experience like no other. Yep, there is no such thing as overkill in the John Wick franchise, apparently – and this film proves it. The extreme violence is at a fever pitch here, with the body count at its highest yet (and that's saying something). But, just like the JW instalments before this, there's an artistry to the bullet ridden insanity (Gun-Fu, as the filmmakers refer to it). The stunt work and stylization are simply incredible, and they only get more intricate and intense with each subsequent battle. By the third act, it's an all-out spectacle of bodies, bullets, and blades. In fact, a particular overhead extended shot is legitimately one of the most impressive action sequences I've ever seen! There's more to this film than poetic brutality though, as the "secret underground hitman society" story continues to evolve in intriguing ways. In addition to the fun world building, there's also a batch of worthy new characters introduced. And while Bill Skarsgard makes for a wonderfully ruthless adversary, it's a super slick Donnie Yen who pretty much steals the show. Of course, our titular hero is once more played to steely-eyed perfection by Keanu Reeves. Reeves excels in the quiet charisma that is John Wick, wearing the character like a second skin at this point. This role has truly been a match made in movie heaven! What might not be so heavenly to some, however, is the film's near 3-hour runtime. But, with high stakes, genuine surprises, a neon-soaked backdrop, and a pulsating soundtrack, there's no complaints from this movie reviewer. Trust me, this all out cinematic assault earns every minute of its runtime!