KNOCK AT THE CABIN – "A ticking clock of tension from start to finish"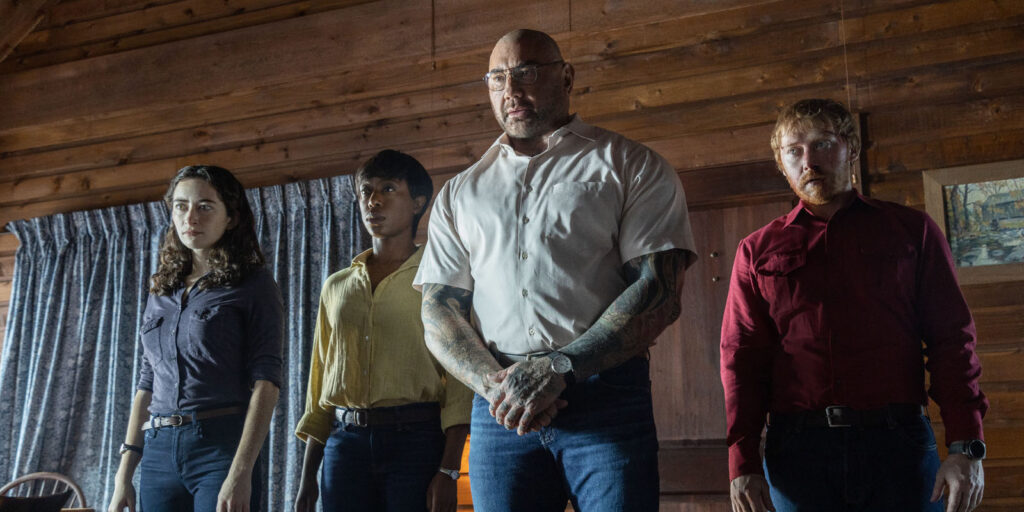 Directed by: M. Night Shyamalan
• Dave Bautista as Leonard
• Jonathan Groff as Eric
• Ben Aldridge as Andrew
• Nikki Amuka-Bird as Sabrina
• Kristen Cui as Wen
• Abby Quinn as Adriane
• Rupert Grint as Redmond
It is based on the 2018 novel The Cabin at the End of the World by Paul G. Tremblay.
While vacationing at a remote cabin, a family of three is suddenly held hostage by four strangers, who demand they sacrifice one of their own to avert the apocalypse.
Buckle up, because M. Night Shyamalan's Knock at the Cabin is a ticking clock of tension from start to finish. That is to say - this is Shyamalan-level suspense at its best! And while this isn't an overly "scary" outing from the veteran director, the plot remains eerie, thought-provoking, and incredibly stirring. You might say this is a return to form for Shyamalan, as he goes noticeably more taught and stripped-down (think Signs). Admittedly, however, it lacks some conviction when the big "apocalyptic" elements seep in (mostly because they are shown via some feeble faux news reports). Regardless, there is enough intrigue and impending doom to carry the story through some of the more questionable moments. And even though Shyamalan has moved past his trademark "twist endings" at this point in his career, you can still expect some surprises. In fact, the movie will keep you on edge throughout, never showing all its cards until the end. Even then there are some interpretations to be made. Helping things immensely, mind you, is the cast at hand. The small ensemble is perfectly proficient in their respective roles (welcome back to movie screens Rupert Grint). Dave Bautista is perhaps the most effective of the group though, giving way to a powerfully understated performance that should rid any doubt naysayers may have about his talents as a serious actor. So, with top tier performances and never-fading intrigue, Knock at the Cabin will surely satisfy Shyamalan fans and suspense seeking moviegoers alike!