LYLE, LYLE CROCODILE – "Kids will chomp this up"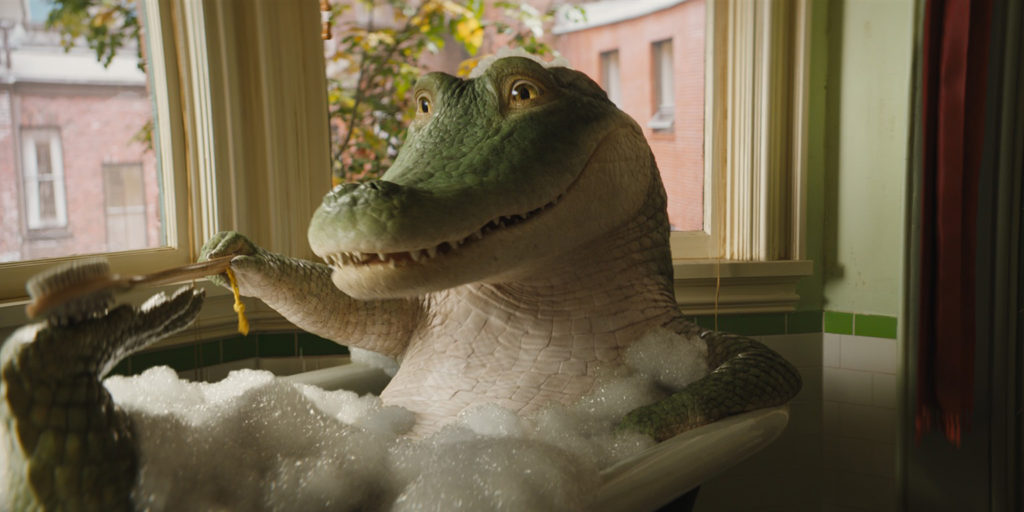 Directed by: Will Speck and Josh Gordon
Shawn Mendes as the voice of Lyle
Javier Bardem as Hector P. Valenti
Constance Wu as Mrs. Katie Primm
Winslow Fegley as Josh Primm
Scoot McNairy as Mr. Joseph Primm
Brett Gelman as Mr. Grumps
Lyric Hurd as Kara Delany
It is an adaptation of the children's story of the same name.
 When the Primm family moves to New York City, their young son, Josh, struggles to adapt to his new surroundings. All of that changes when he discovers Lyle, a singing saltwater crocodile living in the attic of his new home. The two become fast friends, but when Lyle's existence is threatened by evil neighbor Mr. Grumps, the Primms must band together with Lyle's charismatic owner, Hector P. Valenti.
Lyle, Lyle Crocodile is harmless family fun with plenty of musical splendor. And while the adult crowd may tune out by the midway point, I'm fairly confidant kids will chomp this up! Of course, there will also be a contingent of the audience that is going strictly for the voice of our titular crocodile, Shawn Mendes. And while we don't get to see the young pop star, just know that his voice acting is well done, and his singing exceptional. Yes, it's those catchy pop-heavy ear-worm songs that keep the film moving along nicely. Aside from the pleasing musical numbers, props should also be given to the special FX team. Lyle's CGI is admittedly pretty great, perfectly blending the cartoonish surrealism of a talking croc with the live action world of New York City. In short – it's not as distracting as other films of this nature (cough *Clifford* cough). Unfortunately, the story is all types of nonsense, not to mention predictable. But, again, this is for kids. And based on the little ones in my screening, they didn't seem to mind one bit!

Paw patrol: The Mighty Movie
$23 million