MONSTER HUNTER – "Monster-sized mindless action"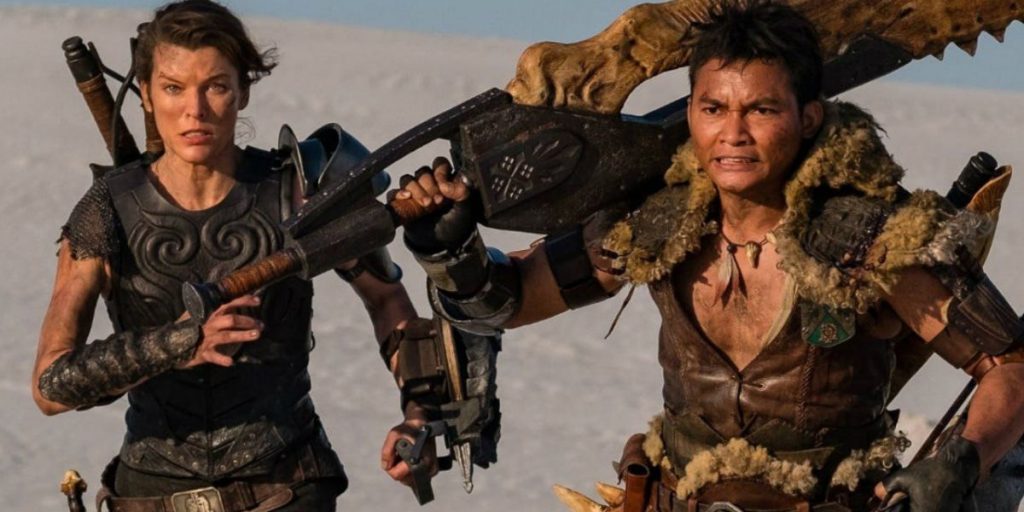 Paul W. S. Anderson (Resident Evil – 2002)
Milla Jovovich as Captain Natalie Artemis
Tony Jaa as The Hunter
Clifford "T.I." Harris, Jr. as Link
Ron Perlman as Admiral
Is based on the video game series of the same name by Capcom.
An elite military force, led by US Army Ranger Captain Artemis, fall through a portal into a world populated by giant monsters. They meet a hunter who helps them survive in the world and fight against the monsters as they seek a way home.
Yet another attempt at bringing a popular video game to the world of cinema, Monster Hunter makes for some monster-sized mindless action. And that's not necessarily a bad thing, as the movie's near non-stop train of explosiveness is almost enough to distract us from the brain-dead plot. So yes, if it's a multi-layered thoughtful script about man and monster and the exploration of alternate worlds that you seek, well, you ain't gonna get it – not by a long shot. What you will get, however, are a handful of fun action set pieces with massive CGI creatures. Luckily, our lead heroine, Mila Jovovich, is no stranger to hokey shoot-em ups (see her numerous outings in Resident Evil for the others). Here, Jovovich is once again all kinds of likeable in the bad ass hero role, while Tony Jaa's "Hunter" is a little less so. But then again, who can blame him for being overshadowed by the special effects monstrosities thrown at us at every turn. Trust me, there are A LOT of ugly faced fiends to be found here. And if that's what you like, then you've hit the jackpot! For everyone else though, it all makes for nothing more than a violently silly distraction.

The Marksman
$2.03 million

The Croods: A New Age
$1.82 million