NEWS OF THE WORLD – "Has enough grit, grace and Tom Hanks to make it a passage worth embarking on"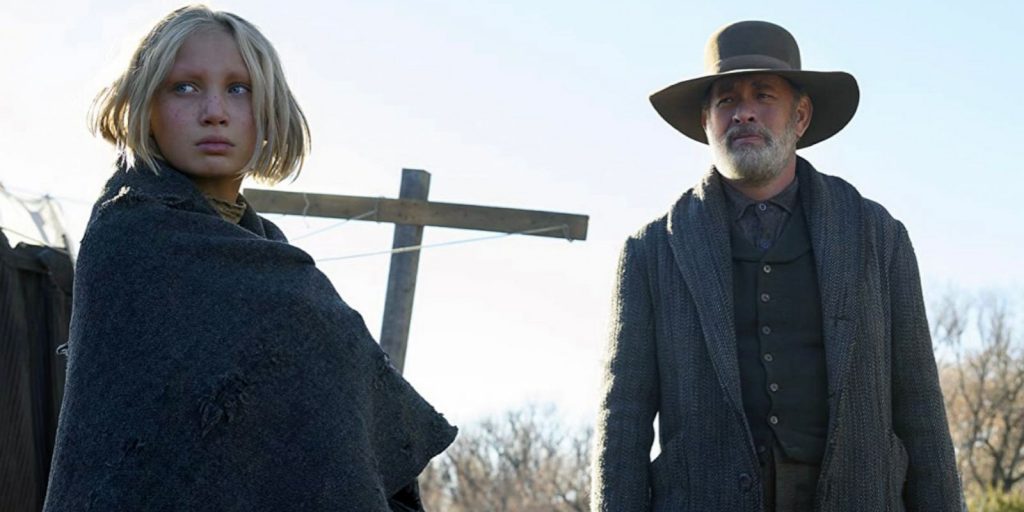 Paul Greengrass (Captain Phillips – 2013)
Tom Hanks as Captain Jefferson Kyle Kidd
Helena Zengel as Johanna Leonberger
Michael Covino as Mark Edgefield
Fred Hechinger as John Calley
Neil Sandilands as Wilhelm Leonberger
Thomas Francis Murphy as Merritt Farley
Ray McKinnon as Christopher John "C.J." Kidd
Bill Camp as Corey Farley
Is based on the 2016 novel of the same name by Paulette Jiles.
A widowed Civil War veteran agrees to deliver a girl, taken by the Kiowa people years ago, to her aunt and uncle, despite the girl's wish to remain with her captors. They travel hundreds of miles and face grave dangers as they search for a place that either can call home.
First things first – Tom Hanks needs to do more westerns! That much is clear, as his outing in this excellently (albeit slow moving) Paul Greengrass western/drama is nothing short of stellar. The always reliable actor is once more everything we love about him: charismatic, thoughtful, caring, and most of all, genuine. In fact, it's that sincereness that carries the film along, as the human challenges our adult and child duo face on their journey are the ones that hit hardest. Yes, there are many unforgiving natural forces to overcome, but it's always the pair's heartfelt connection that makes it work. And while fans of the director may be a little thrown by the very different style this film takes compared to others in his filmography, rest assured Greengrass is still a master of his craft here, expertly enriching every scene with the surrounding elements. News of the World does feel awfully familiar however, and by virtue – predictable. It's a good thing, then, that this western has enough grit, grace and Tom Hanks to make it a passage worth embarking on!

The Marksman
$2.03 million

The Croods: A New Age
$1.82 million