NIGHTMARE ALLEY – "A noir nail biter that's a tad too old fashioned for its own good"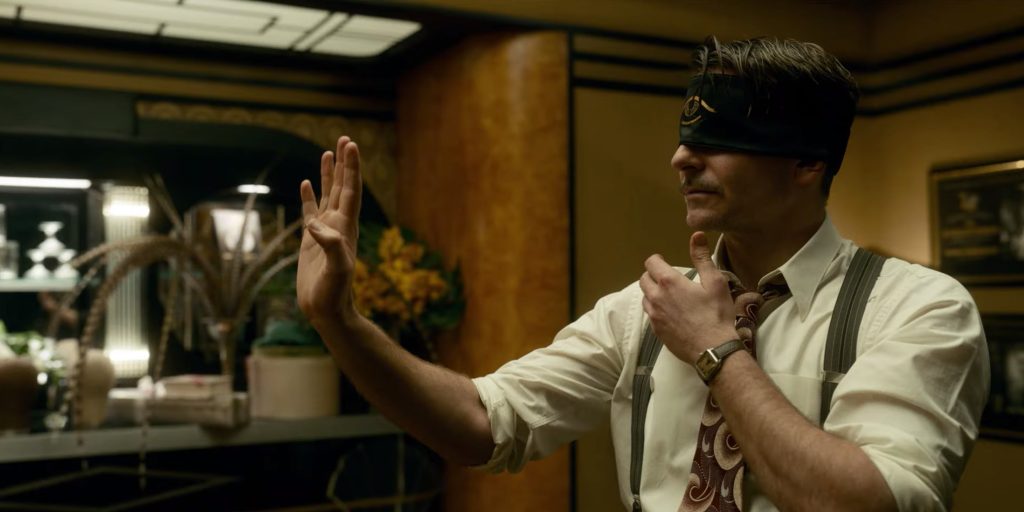 Bradley Cooper as Stanton "Stan" Carlisle
Cate Blanchett as Lilith Ritter
Toni Collette as Zeena Krumbein
Willem Dafoe as Clement "Clem" Hoately
Richard Jenkins as Ezra Grindle
Rooney Mara as Molly Cahill
Ron Perlman as Bruno
Mary Steenburgen as Miss Harrington
David Strathairn as Peter "Pete" Krumbein
Is based on the 1946 novel of the same name by William Lindsay Gresham.
Stan Carlisle, an ambitious carny with a talent for manipulating people with a few well-chosen words, hooks up with Dr. Lilith Ritter, a psychiatrist who is even more dangerous than he is.
Guillermo del Toro's Nightmare Alley is a noir nail biter that's a tad too old fashioned for its own good. That is to say, the film's old-timey structure doesn't translate quite as well as it did in the 40's (when the first feature came out at 40 minutes shorter than this one). And even though the film feels bloated, the end's big moral reckoning is all but rushed – go figure. Luckily, the nearly 2 and ½ hour runtime is filled with exquisite production design and magnificent performances. Everyone from Cate Blanchette to Toni Collette brings juicy pulp to the screen. Bradley Cooper is once again a master at work, giving his ambitious character's story arc genuine gravitas. It's all very moody and odd, no doubt in our director's wheelhouse. In fact, Del Toro's rustic and shadowy visuals prove the biggest highlight, making every scene drip with atmosphere. And with plenty of story told, it is all very akin to big, classic cinema of yore - jusssst not quite as effective.