ONE NIGHT IN MIAMI – "Slickly produced and poignantly performed"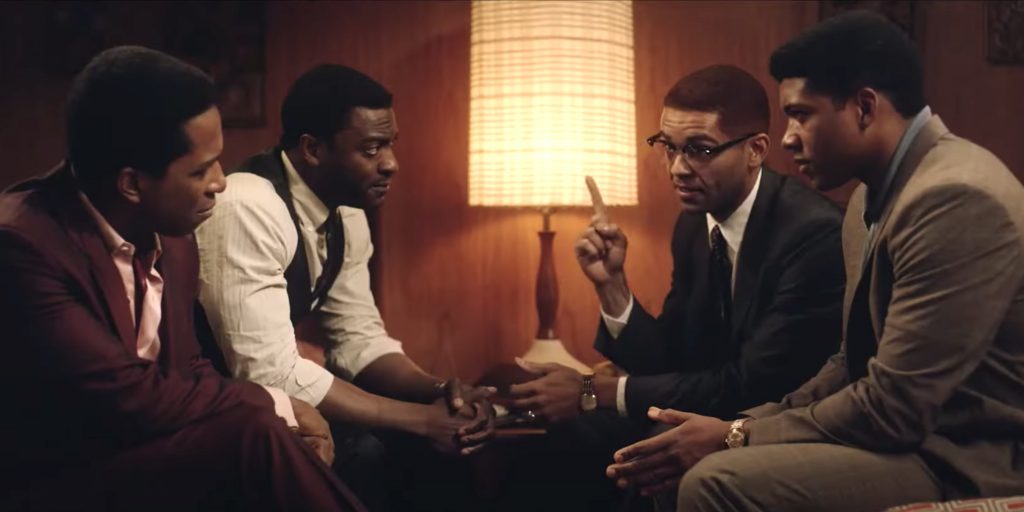 Regina King (Feature directorial debut)
Kingsley Ben-Adir as Malcolm X
Eli Goree as Muhammad Ali
Aldis Hodge as Jim Brown
Leslie Odom Jr. as Sam Cooke
Joaquina Kalukango as Betty Shabaz
Nicolette Robinson as Barbara Cooke
Is from a screenplay by Kemp Powers based on his stage play of the same name.
On one incredible night in 1964, four icons of sports, music, and activism gathered to celebrate one of the biggest upsets in boxing history. When underdog Cassius Clay, soon to be called Muhammad Ali, defeats heavy weight champion Sonny Liston at the Miami Convention Hall, Clay memorialized the event with three of his friends: Malcolm X, Sam Cooke and Jim Brown.
Slickly produced and poignantly performed, One Night in Miami makes for one heck of a feature directorial debut for Regina King! The actress now director does a great job of giving this stage play the film treatment, as she retains all the powerful dialogue and themes, while wrapping them in a silky-smooth visual design. Of course, no matter how good the direction and production designs are, a film of this nature ultimately boils down to the cast. You see, in a movie featuring larger than life historical figures, it's imperative that the actors not go the route of doing an "impression," and yet not stray so far that their depictions become unrecognizable. It's quite the fine line, but luckily, ALL the actors involved nail their respective parts. And while Leslie Odom Jr.'s Sam Cooke might be the slight standout; everyone here provides a stunning acting showcase. As for plot, well, it's all very enriching. Even though this is only loosely inspired by actual events, the conversations and heated discussions between these iconic characters remain ones of historical significance. So yes, powerful and enlightening, One Night in Miami is sure to sooth the soul!