SHAZAM! FURY OF THE GODS – "Not nearly as fully charged as its predecessor"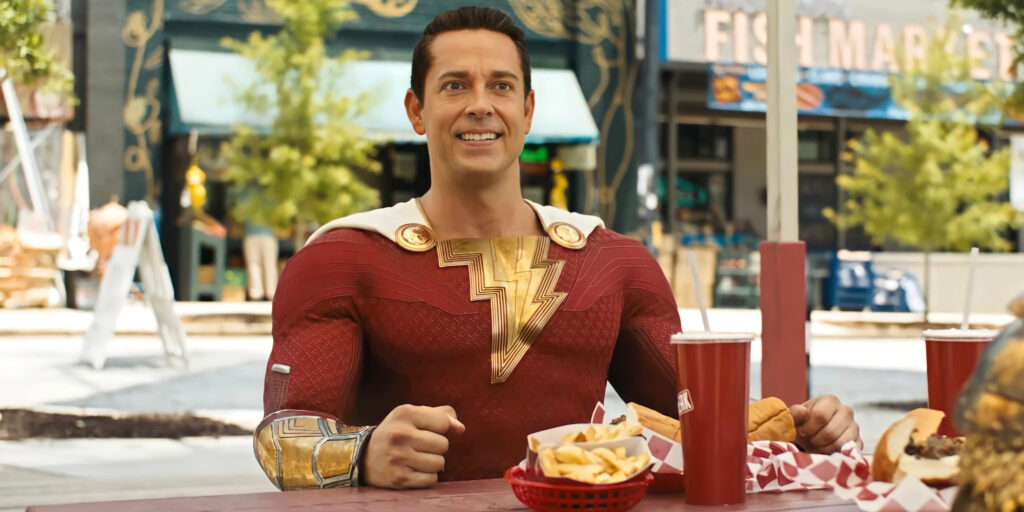 Directed by: David F. Sandberg (Shazam! - 2019)
• Zachary Levi and Asher Angel as Billy Batson / Shazam
• Jack Dylan Grazer and Adam Brody as Frederick "Freddy" Freeman
• Rachel Zegler as Anthea
• Ross Butler and Ian Chen as Eugene Choi
• Meagan Good and Faithe Herman as Darla Dudley
• Grace Fulton as Mary Bromfield
• D. J. Cotrona and Jovan Armand as Pedro Peña
• Lucy Liu as Kalypso
• Djimon Hounsou as Shazam
• Helen Mirren as Hespera
It is the direct sequel to Shazam! (2019).
Bestowed with the powers of the gods, Billy Batson and his fellow foster kids are still learning how to juggle teenage life with their adult superhero alter egos. When a vengeful trio of ancient gods arrives on Earth in search of the magic stolen from them long ago, Shazam and his allies get thrust into a battle for their superpowers, their lives, and the fate of the world.
Not nearly as fully charged as its predecessor, Shazam! Fury of the Gods makes for lower-tier superhero fare. But, while it is overly familiar, frustratingly repetitive, and cliched to the max, it still manages to add charm to the proceedings on a handful of occasions. Yes, Zachery Levi is once more wholly game in the overly juvenile yet amiable titular role. Meanwhile, his younger counterpart/alter-ego, Asher Angel, adds nice emotional touches with his performance. The movie also puts a bigger spotlight on Jack Dylan Grazer (and Adam Brody in his superhero form) this time around. And those moments work well – thanks mostly to Grazer and Brody's effortless charismatic appeal. A delightful Rachel Zegler also lights up the screen here, even if she and fellow newbies Helen Mirren and Lucy Liu have their talents underused. What doesn't work so well, however, is everybody else in this movie. And it's mainly because there are SO many of them! You've got 6 superheroes in this "Shazamily" and 1 wizard. That's 7 people to keep track of and care about. Add in 3 villains and a pair of doting parents, and it's more than a little much. It doesn't help that the movie is littered with CGI abominations at every turn. By the end, there's such a bombardment of special effects explosions and action that everything becomes meaningless. "Less is more" was definitely not practiced during the making of this film. Luckily, there are a few surprises and fun cameos to make the 2-hour-plus journey worth it. There's also a refreshing feelgood nature to the events at hand, making it an ideal popcorn flick for the entire family. So, while lightning may not have struck twice for Shazam, it still manages to spark harmless entertainment for moviegoers to enjoy.