SPIRAL – "Adds a fresh coat of blood red paint to an otherwise tired premise"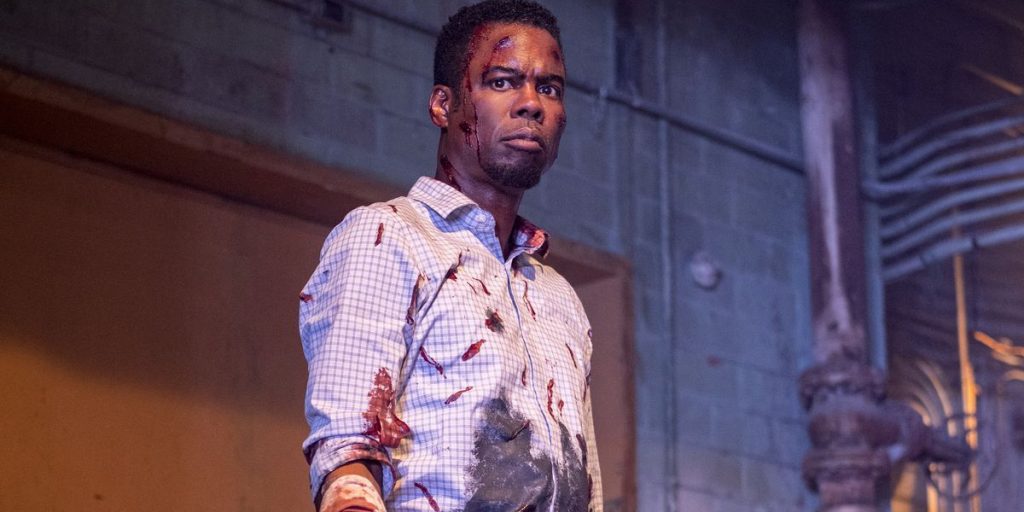 Darren Lynn Bousman (Saw IV - 2007)
Chris Rock as Det. Ezekiel "Zeke" Banks
Max Minghella as Det. William Schenk / Emerson
Marisol Nichols as Capt. Angie Garza
Samuel L. Jackson as Marcus Banks
Dan Petronijevic as Det. Marv Bozwick
Richard Zeppieri as Det. Fitch
It is the ninth instalment in the Saw film series.
Working in the shadow of his father, Detective Ezekiel "Zeke" Banks and his rookie partner take charge of an investigation into grisly murders that are eerily reminiscent of the city's gruesome past. Unwittingly entrapped in a deepening mystery, Zeke finds himself at the center of the killer's morbid game.
There's no question that Spiral (From the Book of Saw) adds a fresh coat of blood red paint to an otherwise tired premise. I'm not sure I'd go so far as to say this instalment reinvigorates the franchise, but it does a solid job of keeping things interesting. You see, this time around, they've taken the "you've been bad - let's play a game" concept and applied it to one particular group – the police. Naturally, there are plenty of interesting "wrongs to be righted" story elements to be leveraged. It's a bit of a shame that the plot doesn't measure up to its potential then. The more things unravel, the more predictable it all becomes – leading to a rather underwhelming finale. But, on the flip side, there's really something to be said for our lead (not to mention co-writer) Chris Rock. Here, Rock shows his range by bringing a real sense of gravitas to the role. Given his comedic nature, it really could have fallen into farcical territory. Trust me, it doesn't. I mean, Chris Rock is not an acting virtuoso by any stretch, but he gets the job done in a particularly engrossing manner. As for the blood and guts contraptions the series is known for, well, they are effective – if not a bit forgettable. Much like the movie as a whole, it's been done better before, but there's enough going on to make you sit up and take notice.