TERMINATOR: DARK FATE – "A vast franchise improvement"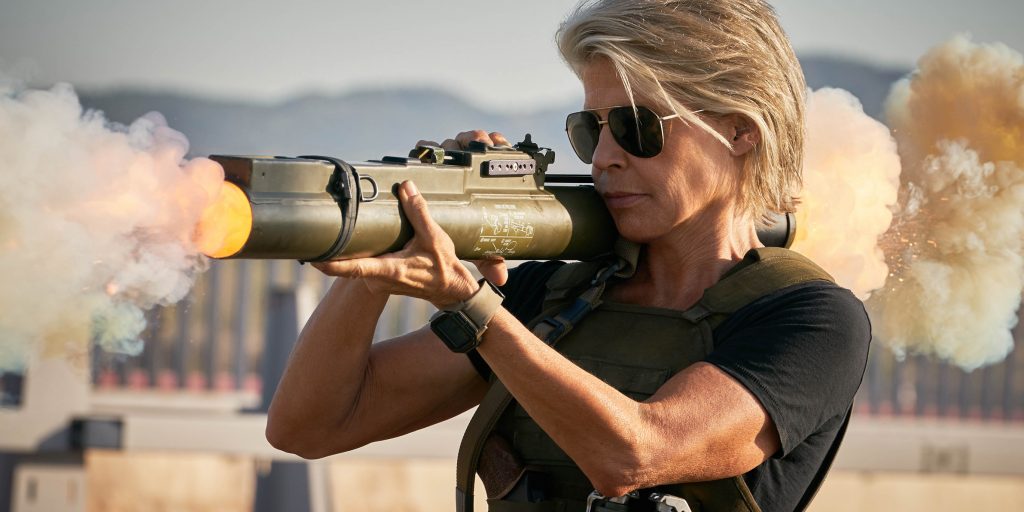 Tim Miller (Deadpool – 2016)
Linda Hamilton as Sarah Connor
Arnold Schwarzenegger as T-800 "Model 101" / Carl
Mackenzie Davis as Grace
Natalia Reyes as Daniella "Dani" Ramos
Gabriel Luna as Rev-9
Is the sixth instalment in the Terminator franchise.
It's been more than 2 decades since Sarah Connor prevented Judgment Day, changed the future, and re-wrote the fate of the human race. Dani Ramos is living a simple life in Mexico City when a highly advanced and deadly new Terminator travels back through time to hunt and kill her. Dani's survival depends on her joining forces with two warriors: Grace, an enhanced super-soldier from the future, and a battle-hardened Sarah Connor.
It may have taken 27 years, but we finally have a worthy follow up to James Cameron's 1992 sci-fi action masterpiece that was Terminator 2: Judgement Day. Yep, Terminator: Dark Fate is nothing short of a vast franchise improvement that should help rid the bad taste left in collective movie fan's mouths from the previous 3 lacklustre attempts. This time around, director Tim Miller doubles down on what made the original Terminator outings work so darn well: big, bold, explosive action! Mixed with a booming soundtrack, the action hits fast and hard, setting the tone for the high-octane onslaught that plays out 'til the very end. The film also benefits from going back to basics in the plot department, in that things are stripped way down to avoid unnecessary story complications (cough *Terminator: Genysis* cough). Also, Linda Hamilton's return is a welcome one, as she steals just about every scene she's in. And for his part, Schwarzenegger proves he hasn't missed a beat as the OG Terminator killing machine. As far as the newcomers go, Makenzie Davis is easily the standout, putting forth a powerfully stoic performance worthy of the movie she's starring in. But while things are certainly better here, they're surely not perfect. The film still falters from the occasional stilted dialogue and more than a few eye rolling "plot conveniences." But, given what's come before from this franchise, it's all forgivable. Heck, if they polish up a few things for another sequel, dare I say it, I'LL BE BACK for more!