THE EYES OF TAMMY FAYE – "Jessica Chastain's heavenly Oscar bait"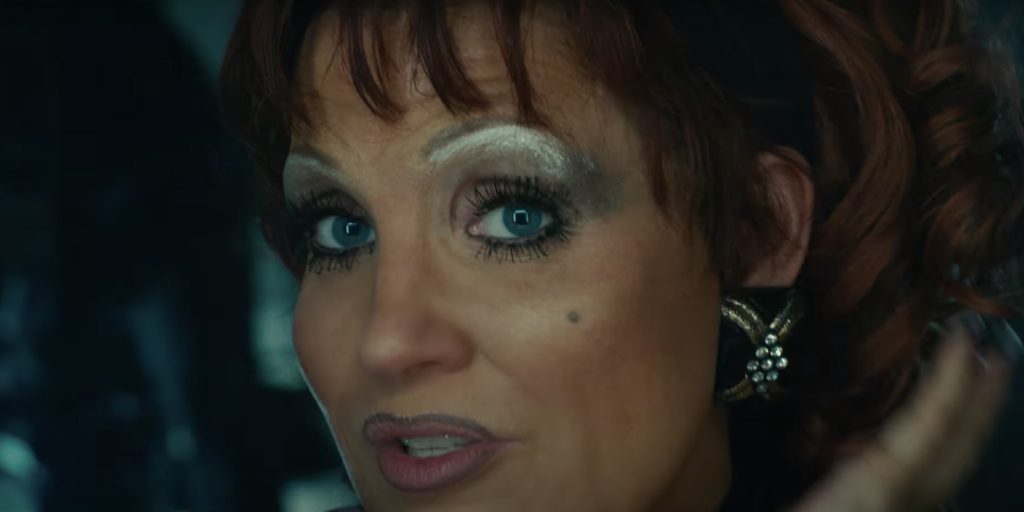 Michael Showalter (The Big Sick – 2017)
Jessica Chastain as Tammy Faye Bakker
Chandler Head as Young Tammy Faye
Andrew Garfield as Jim Bakker
Cherry Jones as Rachel LaValley
Vincent D'Onofrio as Jerry Falwell
Fredric Lehne as Fred Grover
Louis Cancelmi as Richard Fletcher
Sam Jaeger as Roe Messner
Gabriel Olds as Pat Robertson
It is based on the 2000 documentary of the same name by Fenton Bailey and Randy Barbato.
In the 1970s, Tammy Faye Bakker and her husband, Jim, rise from humble beginnings to create the world's largest religious broadcasting network and theme park. Tammy Faye becomes legendary for her indelible eyelashes, her idiosyncratic singing, and her eagerness to embrace people from all walks of life. However, financial improprieties, scheming rivals and a scandal soon threaten to topple their carefully constructed empire.
The Eyes of Tammy Faye could easily be renamed "Jessica Chastain's Heavenly Oscar Bait." Yep, this is Chastain's movie through and through. The big hair, loud clothes, squeaky voice – it all adds up to a revelation of a turn by the actress, one that will no doubt impress audiences and critics alike. The portrayal is more than looks of course, with the past Oscar nominee sinking her teeth into Tammy's vulnerability, giving plenty of depth to our titular subject. To be fair, Chastain isn't the only one with a transformative performance, as Andrew Garfield flexes his own chameleon skills – notably nailing the distinct Jim Bakker accent. The spanning story might be a little less impressive however, as it never really finding its focus. In other words, it says a lot, without saying much of anything. That's not to say it isn't watchable though, au contraire. The retro world of the 70's and 80's depicted is impeccably brought to life by the filmmakers, giving way to lavish colours and exuberant panache. In short, it's entertaining eye candy. And thanks to our leading lady, it's actually some pretty darn divine viewing!