THE IRISHMAN – "Quintessential Scorsese"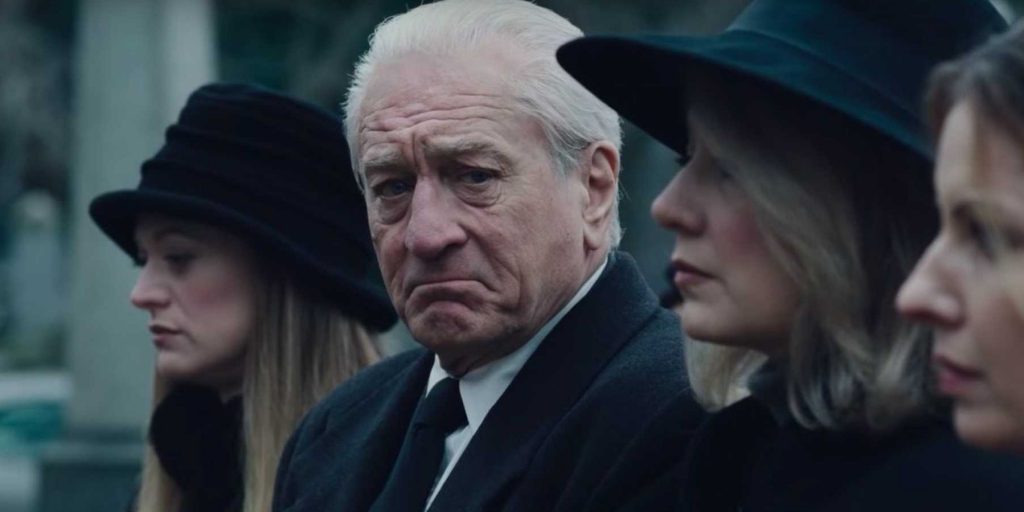 Robert De Niro as Frank "The Irishman" Sheeran
Al Pacino as James Riddle "Jimmy" Hoffa
Joe Pesci as Russell Bufalino
Ray Romano as Bill Bufalino
Bobby Cannavale as Felix "Skinny Razor" DiTullio
Anna Paquin as Peggy Sheeran
Stephen Graham as Anthony "Tony Pro" Provenzano
Stephanie Kurtzuba as Irene Sheeran
Jesse Plemons as Chuckie O'Brien
Harvey Keitel as Angelo Bruno
Kathrine Narducci as Carrie Bufalino
Is based on the 2004 book I Heard You Paint Houses by Charles Brandt.
In the 1950s, truck driver Frank Sheeran gets involved with Russell Bufalino and his Pennsylvania crime family. As Sheeran climbs the ranks to become a top hit man, he also goes to work for Jimmy Hoffa -- a powerful Teamster tied to organized crime.
Quintessential Scorsese. That is what the celebrated director's latest film amounts to. Yep, The Irishman has all the hallmarks of a classic Martin Scorsese picture: an epic tale told pensively and effectively, stellar performances from acting greats, a poignant (and at times aggressively funny) script, impeccable attention to detail, and all the gritty gangster fare you can handle. To top it off, the movie also boasts a major achievement in the special FX department, as "aging" and "de-aging" techniques are used with flawless results throughout. Robert De Niro and the rest of the pedigreed cast deserve major accolades as well, with Al Pacino and Joe Pesci particularly shining in their roles as Russell Bufalino and Jimmy Hoffa respectively (ok, maybe Pacino gets a little too wacky at times, but whaddya gonna do?). And while this is a sprawling saga that goes in many different directions, involves many different people, at many different times, it still manages to be a personal journey, something Scorsese has no doubt mastered at this point. All that to say, The Irishman is a true quality work of art from a true master of the game. So go ahead movie lovers, sink your teeth in and enjoy the cinematic feast you've been served!