THE LITTLE MERMAID – "Delivers a wave of magic, music, and whimsy for fans of all ages"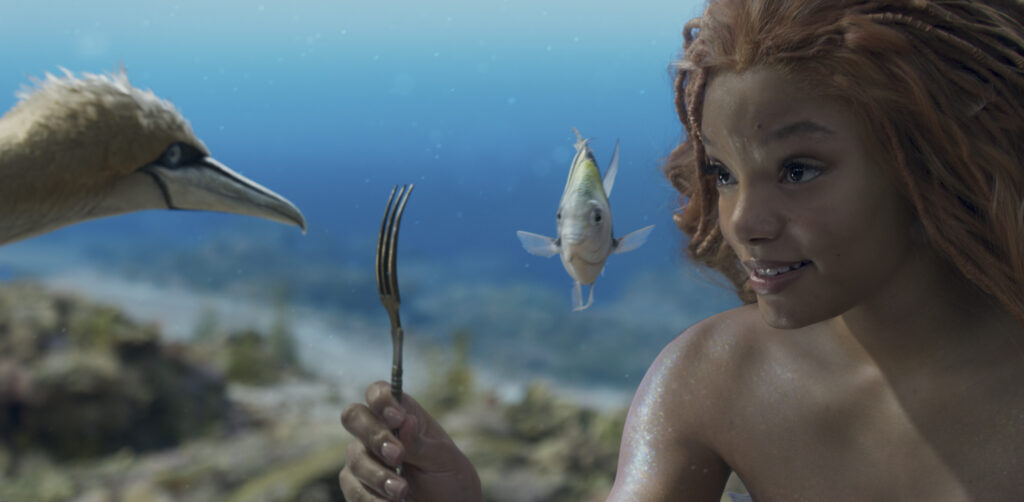 Directed by: Rob Marshall (Chicago – 2002)
• Halle Bailey as Ariel
• Jonah Hauer-King as Eric
• Daveed Diggs as the voice of Sebastian
• Awkwafina as the voice of Scuttle
• Jacob Tremblay as the voice of Flounder
• Noma Dumezweni as Queen Selina
• Javier Bardem as King Triton
• Melissa McCarthy as Ursula
• Emily Coates as Rosa
• John Dagleish as Mulligan
• Martina Laird as Lashanda
It is a live-action adaptation of Walt Disney Animation Studios' 1989 film of the same name.
The youngest of King Triton's daughters, Ariel longs to find out more about the world beyond the sea, and while visiting the surface, falls for the dashing Prince Eric. While mermaids are forbidden to interact with humans, Ariel must follow her heart. She makes a deal with the evil sea witch, Ursula, which gives her a chance to experience life on land, but ultimately places her life in jeopardy.
Good news – your childhood will not be ruined by Disney's latest "live action" remake. In fact, Rob Marshall's The Little Mermaid delivers a wave of magic, music, and whimsy for fans of all ages. I mean, it's still pretty much a gratuitous cash grab from "The House of Mouse," but this is the rare occasion where the spirit of the original is (mostly) recaptured. A major part of this film's appeal is our lead actress, Halle Bailey. And while there have been a lot of questionable complaints over her casting, just know that this girl is a star through and through. Her voice is goosebump-inducing, while her wholesome charm is undeniable. Trust me, this Ariel makes quite the splash! Also bringing the acting goods here is Melissa McCarthy, whose Ursula is as deliciously deranged and twisted as you'd hoped it would be. Throw in some fun voice work from Awkwafina, Daveed Diggs, and Jacob Tremblay, and you've got a very enjoyable cast at hand. Unfortunately, things are not as pitch perfect in the special effects department. The film's enchanted design is sometimes breathtaking, but other times sloppy. There are also new elements added to the story that, while interesting, end up bloating the already depth-full narrative. But, by the end, there is no question that this is a true crowd-pleaser. It's nostalgia that swims, not sinks!

Paw patrol: The Mighty Movie
$23 million