THE SUICIDE SQUAD – "Unabashedly brazen and gloriously gruesome"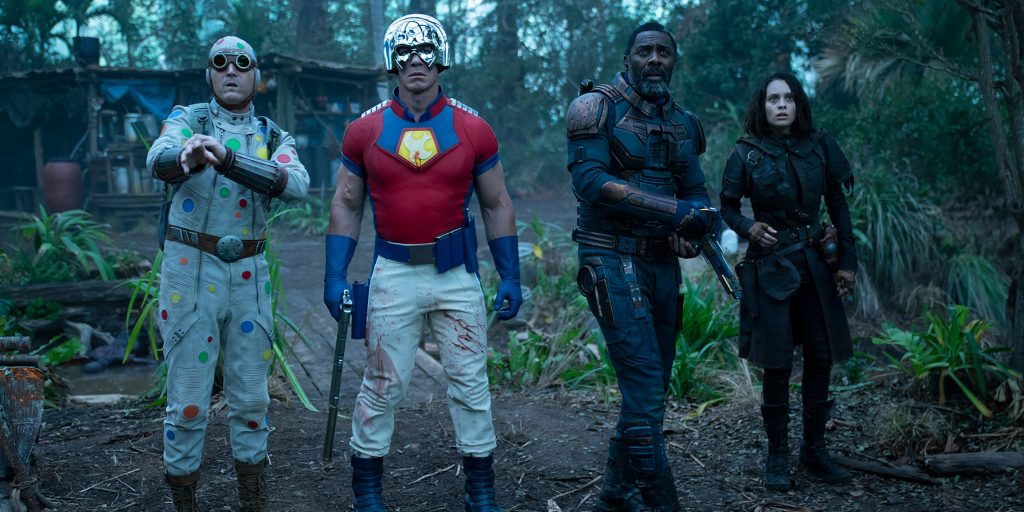 James Gunn (Guardians of the Galaxy – 2014)
Margot Robbie as  Harleen Quinzel / Harley Quinn
Idris Elba as Robert DuBois / Bloodsport
John Cena as Christopher Smith / Peacemaker
Joel Kinnaman as Rick Flag
Sylvester Stallone as the voice of Nanaue / King Shark
Viola Davis as Amanda Waller
Jai Courtney as George "Digger" Harkness / Captain Boomerang
Peter Capaldi as Gaius Grieves / The Thinker
Pete Davidson as Richard "Dick" Hertz / Blackguard
Michael Rooker as Brian Durlin / Savant
It is a standalone sequel/quasi reboot to Suicide Squad (2016). 
Imprisoned convicts of Belle Reve penitentiary are sent as members of Task Force X to the South American island of Corto Maltese to destroy Jotunheim, a Nazi-era prison and laboratory which held political prisoners and conducted experiments. During the mission, they come into conflict with Starro, a giant, telepathic alien starfish.
Unabashedly brazen and gloriously gruesome, James Gunn's The Suicide Squad is an utter riot from start to finish. Yep, prepare to have the bad taste left from David Ayer's 2016 studio-meddling mess of a film completely washed away with Gunn's unadulterated R-rated action-fest. Of course, it wouldn't be a James Gunn film if it wasn't littered with unexpected comedy. And, this is certainly no exception, as the laughs come just as fast and hard as the bullets and body shots. It helps that the rag-tag group of C, D, and even Z-list characters are brilliantly brought to life by the talented cast. Even the oversized infantile CGI shark, Nanaue, is made all the more likeable thanks to Sylvester Stallone's 5 or so lines of dialogue. It's Idris Elba, Margot Robbie, and Joel Kinnaman who do most of the heavy lifting, mind you. However, I'd be remised if I didn't mention John Cena's impressive turn as the morally confused Peacemaker. With the wrestler/actor enjoyably committing to the material ten-fold, he's likely only a handful of fearless outings away from finding himself in Dwayne "The Rock" Johnson star status. When it comes to The Suicide Squad's plot though, it's all fairly comic-book commonplace - with a touch of the extreme that is. I mean, did the third act drag on a little too much? Absolutely. Did it still try its damndest to entertain 'til the very end? Abso-f***ing-lutely!