VENOM: LET THERE BE CARNAGE – "They've doubled down on the silly madness"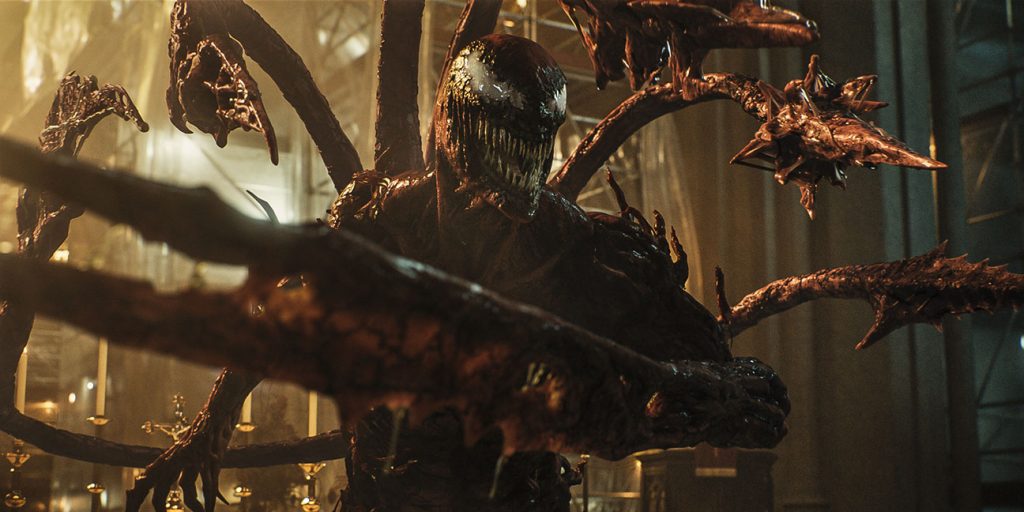 Andy Serkis (Mowgli: Legend of the Jungle – 2018)
Tom Hardy as Eddie Brock / Venom
Michelle Williams as Anne Weying
Naomie Harris as Frances Barrison / Shriek
Reid Scott as Dan Lewis
Stephen Graham as Mulligan
Woody Harrelson as Cletus Kasady / Carnage
It is the sequel to Venom (2018).
After finding a host body in investigative reporter Eddie Brock, the alien symbiote must face a new enemy, Carnage, the alter ego of serial killer Cletus Kasady.
If you liked the first instalment in this Tom Hardy-led Venom franchise, then good news - they've doubled down on the silly madness. If you didn't like it, well, bad news - they've doubled down on the silly madness. Yep, this is one movie that will surely divide audiences (again). I lean more on the positive side of the symbiotic fence mind you, as Hardy once again delivers a bizarre balls to the wall performance that somehow works. Plus, the odd couple comedy that's played with his outspoken parasitic partner, Venom, is never not entertaining. It all adds up to a strangely welcome quirkiness to the proceedings. What doesn't work as well, however, is the "been there, done that" plot. It's all very reminiscent of early 2000's superhero films, and not the good ones I'm afraid. Sure, some of the action set pieces are cool to look at, but there's only so much "smashy smashy CGI" one can take. That slithering CGI is well done though, giving fans of the comics a really dynamic iteration of these classic characters. Speaking of which, when it comes to our advertised villain, Carnage, Woody Harrelson clearly embraced the camp, happily chewing the scenery (sometimes literally) every chance he got. I was happy to see Michelle Williams return, but not so happy to see her talents relegated to "girl in distress." As for the movie's top highlight, well that comes by way of a really interesting post-credits scene (avoid spoilers for this one). So, here's the thing, if you find yourself with a ticket to see Venom's second big screen go-round, it's probably best to just embrace the chaos. And, like an alien symbiote, it will most likely grow on you!