RESIDENT EVIL: WELCOME TO RACCOON CITY – "The lifeless script hampers a would-be creepy actioner"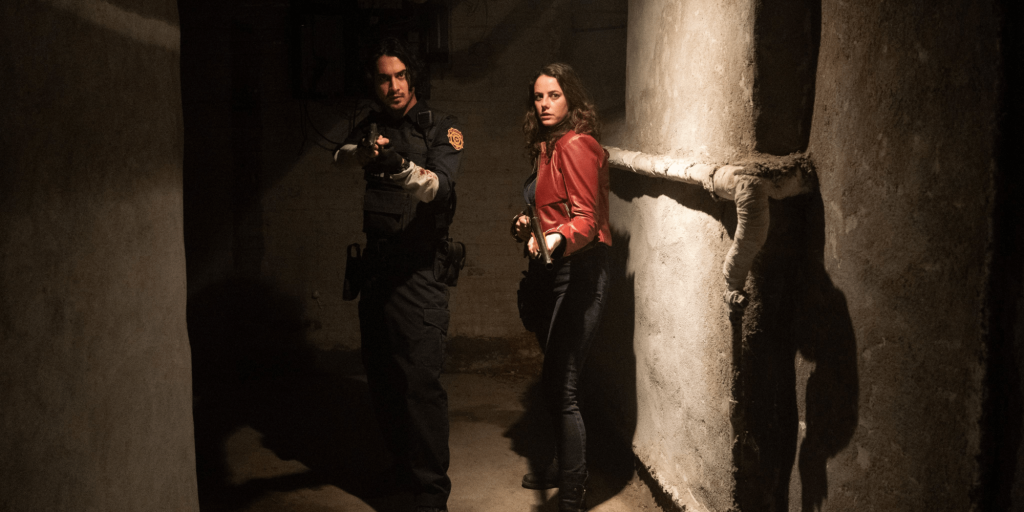 Johannes Roberts (47 Meters Down – 2017)
Kaya Scodelario as Claire Redfield
Lauren Bill as young Claire Redfield
Hannah John-Kamen as Jill Valentine
Robbie Amell as Chris Redfield
Tom Hopper as Albert Wesker
Avan Jogia as Leon S. Kennedy
Donal Logue as Chief Brian Irons
Neal McDonough as William Birkin
Lily Gao as Ada Wong
Chad Rook as Richard Aiken
It is a reboot of the Resident Evil film series and will be the seventh live-action film, which is loosely based on the video game series of the same name.
Welcome to Raccoon City, once the booming home of pharmaceutical giant Umbrella Corp. The company's exodus left the city a wasteland, a dying town with great evil brewing below the surface. When that evil is unleashed, a group of survivors must work together to uncover the truth behind Umbrella and make it through the night.
When it comes to Johanne Robert's Resident Evil reboot, the lifeless script hampers a would-be creepy actioner. In other words, there is big time wasted potential here. The major issue is the complete lack of character development (aside from the main protagonist, Claire). And it's a shame, because they really assembled a great little cast of capable actors. But, with little (and I mean little) to go off of, we are left caring about none of them. Will poor Robbie Amell ever reach the heights of his brother Stephen? Not with outings like this, I'm afraid. I did appreciate the filmmakers attempt to strip the Resident Evil world down to its bare bones, though. They gave it a true eerie vibe, full of cold rain and dark seclusion. A minimalist approach was certainly the way to go in order to differentiate itself from its predecessor's look and feel. I'll also note that some of the effects deliver on the "wow" factor. The third act's "main monster" really brings an impressive "ick" factor to the screen. And, if you are fan of the games, there's plenty of nods and Easter eggs to be found. Unfortunately, it not nearly enough to keep you invested. Sadly, this is just another zombie shoot-em up wrapped in an empty shell. Where's the bite?!