BLACK ADAM – "The bombardment of action sequences yields middling enjoyment"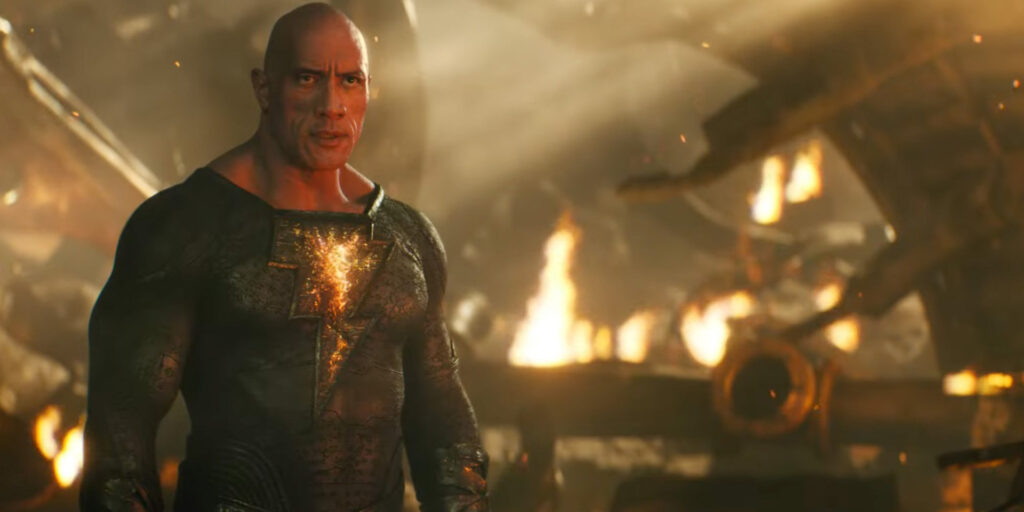 Directed by: Jaume Collet-Serra (Jungle Cruise – 2021)
Dwayne Johnsonas Teth-Adam / Black Adam
Aldis Hodge as Carter Hall / Hawkman
Noah Centineo as Albert "Al" Rothstein / Atom Smasher
Sarah Shahi as Adrianna Tomaz
Marwan Kenzari as Ishmael Gregor / Sabbac
Quintessa Swindell as Maxine Hunkel / Cyclone
Bodhi Sabongui as Amon Tomaz
Pierce Brosnan as Kent Nelson / Doctor Fate
It is based on the DC Comics character of the same name and is a spin-off from Shazam! (2019).
In ancient Kahndaq, Teth Adam was bestowed the almighty powers of the gods. After using these powers for vengeance, he was imprisoned, becoming Black Adam. Nearly 5,000 years have passed, and Black Adam has gone from man to myth to legend. Now free, his unique form of justice, born out of rage, is challenged by modern-day heroes who form the Justice Society: Hawkman, Dr. Fate, Atom Smasher and Cyclone.
With about 90% of Black Adam being nothing more than on-screen explosions, the bombardment of action sequences yields middling enjoyment. The main reason is that all these big blow 'em up battle scenes are pretty much the same. The first explosive showdown was fairly awe inspiring. The second, a little less so. The third, fourth, fifth, and sixth are all so jumbled together in my brain that I'm hard pressed to remember any highlights. Does that mean that there isn't any fun to be had here? Of course not. For his part, Dwayne "The Rock" Johnson makes good on his promise to be an epic bad ass in the titular role. Here, Johnson seemingly channels Arnold Schwarzenegger as The Terminator – a cold and calculating indestructible force with hints of a moral fibre. The rest of the bloated cast is a mixed bag, however. While Aldis Hodge's Hawkman is delightfully menacing and cool to look at, Pierce Brosnan's Dr. Fate comes across as a Doctor Strange rip-off. To be fair, Bronsan puts forth an earnest performance, giving the often-hokey material an almost Shakespearean read. It's just too bad his character (and the rest of the Justice Society) are given little development to make their (ahem) fates mean much. Then there's the heavy-handed themes surrounding war and what it really means to be the good guy. I'm not so sure the movie got its intended point across, because I'm pretty sure I walked away with the notion that murder was acceptable some of the time. Maybe that's just me? But for all the overblown and undercooked narrative problems, the movie does boast an impressive visual design. Yep, the special effects team clearly worked overtime on this one, and the results are rather impressive. It's just too bad the film is such a jumble of tones and ideas. But hey, maybe they can find their footing with the next one. And with that post credit scene revelation, I truly hope there is a next one!